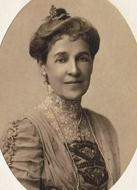 Florence Earle Coates was a very widely published American poet with some three hundred poems having featured in magazines including



She also had a deep interest in music and a good number of Florence"s poems were adopted by musical composers including Charles Gilbert Spross, and turned into songs.
She was born Florence Van Leer Earle on the 1st July 1850 in Philadelphia, Pennsylvania.  She took her surnames from her father George H. Earle who was a lawyer, and her mother Frances ("Fanny") Van Leer.  Her education was varied with attendance first at a school in New England followed by a spell at a Parisian convent.  She then went on to Brussels to study music under some famous teachers of that time.
She returned to the United States, keen to make her name in literature and music, and was encouraged by the English literary critic and travelling lecturer Matthew Arnold to write poetry.  The pair first came across each other in New York around 1883 and they enjoyed a long-lasting friendship.  Coates developed a deep love of nature by spending the summer months in the relative cool of the Adirondacks, in a cabin.  Many famous guests were entertained there including some of the Roosevelt family.  She closely observed the fauna and flora all around her and penned lines such as this about these times:



Mrs Coates became well known for her lyrical, nature-themed poetry but during the early part of the 20th century she turned her attention, like so many others, to the terrible war unfolding in Europe.  She was a great supporter of Americans becoming involved in the First World War and she had a collection of war poems published privately in 1917 under the title Pro Patria.  These were laments and tragic tales of the hardships of soldiers fighting on a foreign field but she took pains to highlight the self-sacrifice and patriotism of those called to arms.
While many soldiers will have gone reluctantly across the ocean to fight, others saw it as their duty to do so and this attitude is illustrated in one of her poems called In War-Time (An American Homeward-Bound).  This tells of a soldier who is on his way home but looks wistfully back, wondering if it is right that he should leave when the job is unfinished.  The poem is reproduced here: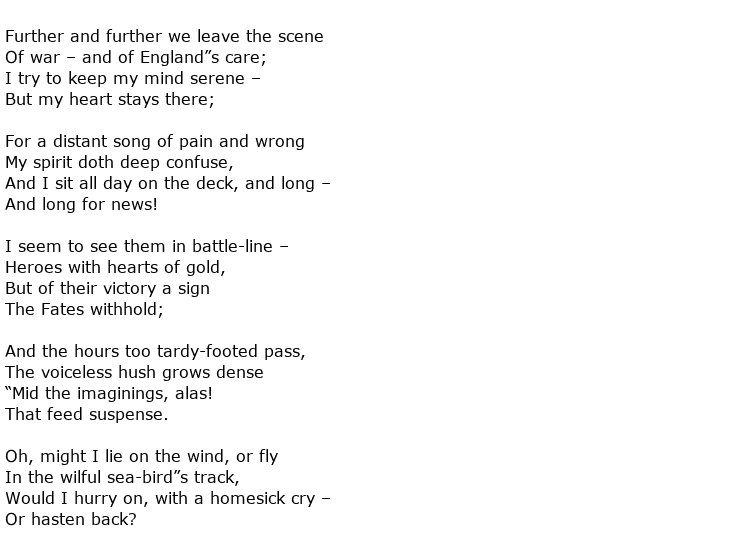 Mrs Coates immersed herself in both historical and literary societies during her middle and later years.  She was a founder member of the Society of Mayflower Descendants in the Commonwealth of Pennsylvania during the 1890s.  She also chaired a group called the Browning Society which was a group of literary enthusiasts who met to discuss and celebrate the work of Robert Browning.  Her popularity as a poet, and great support from the Federation of Women's Clubs, led to her election as the state of Pennsylvania's Poet Laureate during 1915.
She was married twice.  Her first husband died after five years but she only remained a widow for two years, marrying Edward Hornor Coates in 1879.  Mr Coates adopted Florence's daughter from her first marriage but then they tragically lost their own child during infancy.
Florence Earle Coates died in a Philadelphia hospital on the 6th April 1927 at the age of 76.