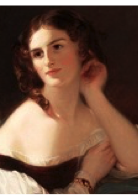 Frances Anne Kemble was a 19th century English actress and writer whose literary output included poetry, plays, travel journals and personal memoirs including a famous account of her time living on a Georgia plantation where she experienced first-hand the plight of the slaves there. She came from a famous acting dynasty and was popularly known as "Fanny" Kemble.
She was born in London on the 27th November 1809, the daughter of the actor Charles Kemble. Theatrical blood ran right through her family line and Fanny was a niece of the famous Sarah Siddons. Not much is known of her early years but it is believed that much of her education was obtained in France. It was inevitable that she should take to the stage and her first appearance was in October 1829, in Covent Garden, London where she played Juliet in Shakespeare's tragedy. Her success in this profession was assured from then on and she went on to play other similar roles over the coming months.
Her father took her on a theatrical tour of the United States in 1832 and she was fascinated by the engineering achievements of the railroad builders. She had already taken an interest, and written about, similar projects in England. The year 1834 saw a temporary retirement from the acting world due to her marriage to a plantation owner in the state of Georgia. Kemble famously recorded her observations of life there in her Journal of a Residence on a Georgian Plantation in 1838-1839. This was not, however, published until 1863 when this anti-slavery tract was well received by the abolitionist lobby during the American Civil War.
Kemble and her husband separated in 1847 as marital tensions increased over her husband's involvement in slave labour. They were divorced two years later. She returned to touring theatre across the States for at least another two decades before retiring from the stage in 1868 having acted in a wide variety of productions. By 1877 she was back in London and actively engaged in literary and social circles. A good friend was American writer Henry James.
Her own output of written work was fairly large with two plays written during the 1830s and her first volume of poems coming out in 1844. While living in Italy, following her divorce, she wrote one of her many memoirs, this one called A Year of Consolation. Later, she used her vast experience of acting in all of Shakespeare's plays to produce Notes on Some of Shakespeare's Plays in 1882. She wrote, and said, a great deal about the plight of slaves on the plantations and her anguish and anger was clear to see.
Conversely, in many of her poems, we can see a softer, romantic side to her nature. Take, for example, the poem Parting which is reproduced here. It is about a woman's wish that a delicate, beautiful rose shall not fall victim to winter's icy grip. It could, indeed, be about her hopes for the preservation of a precious flower or it could be about the loss of a loved one for a time, hoping that he returns safely. Here is the poem: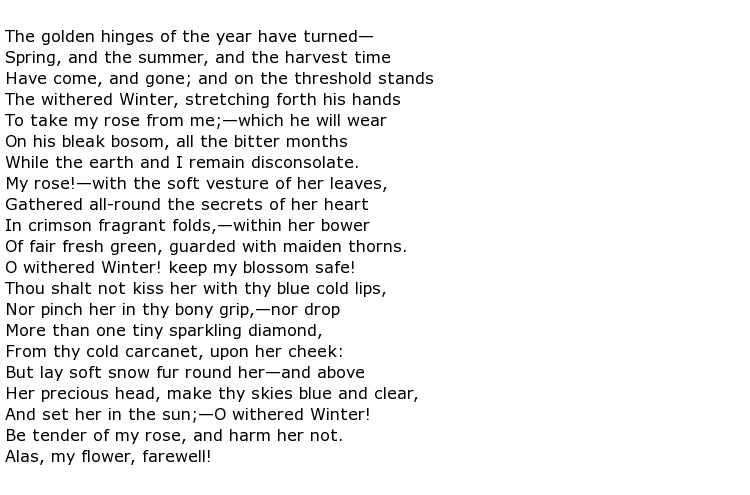 Frances Anne "Fanny" Kemble's long life ended on the 15th January 1893 when she died in London at the age of 83.