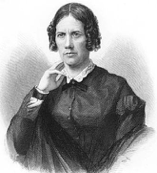 Frances Dana Barker Gage was a 19th century American writer of poetry and hymns, often known as Fannie D. Gage for this work, and also as Aunty Fanny when writing her children's poetry and stories.  Besides her literary output she was, perhaps, even better known as a staunch campaigner on behalf of women's rights in particular and the rights of all citizens generally, especially when it came to giving everyone the vote.  As a keen abolitionist she was outspoken in her support for African-Americans recently freed from slavery.
She was born Frances Dana Barker on the 12th October 1808 into a farming family settled near Marietta, Ohio.  There were eleven children, Frances, being the tenth.  Her interest in making the world equal for women was probably sparked when she was only ten years old.  She helped her father on the farm and the only way he could praise her was to concede that she was doing ok despite being female.  He even called this an "accident of gender".  Much later on Gage wrote that this one incident had been a turning point in her life, despite her still being so young.
She had a fairly conventional upbringing with religion being a part of it, so it was no surprise when she married a man by the name of James L. Gage in 1829 who was a keen Universalist as well as being a lawyer specialising in the abolition of slavery.  They often entertained roving Universalist preachers at their home.  As the years went by she became active in temperance, women's rights and anti-slavery movements, often organising meetings herself but these were not always popular, especially amongst men opposed to her views.
When she moved to St Louis in 1853 she often found herself subject to threats of physical violence.  Undeterred, as chair of the National Woman's Rights Convention in Cleveland, she continued to spread the word and even travelled to the Caribbean to learn more about the problems that black people had faced on the plantations there.  Her home was targeted by arsonists on at least three occasions and, in 1860, she moved with her family back to Ohio, setting up home in Columbus.
Away from her vigorous campaigning, Gage found the time to write for both adults and children.  She was especially popular in her guise as "Aunt Fanny", appealing to children and their mothers in turn.  She used her writing to offer domestic advice to women who were often isolated in the home, using various formats such as letters, essays and articles in regional publications such as The Ohio Cultivator, amongst others.  Her poetry was popular and collections included Poems, published in 1867.  A popular piece that was later turned into a hymn was A Hundred Years Hence and it began to be sung around the year 1875.  She prophesied so many changes in the future that would make the lives of the down-trodden so much better.  Unfortunately her ideas were based on idealism and fanciful notions that could never come to pass.  It was a popular piece at the time with readers and singers obviously unable to be sure what their future might hold, many of them lapping up her idea of a utopian existence.  Here is the poem: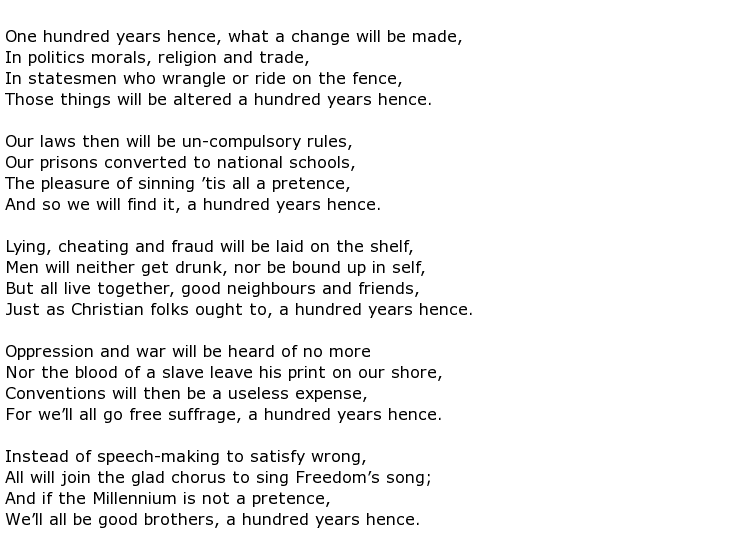 Gage had many friends in the women's rights movement including the likes of Susan B Anthony and Elizabeth Cady Stanton.  They kept her going when times were hard, when she might have been tempted to settle for an easier life.  With her husband James she raised eight children during a marriage that lasted almost forty years, only ending when he died in 1867.
Frances Dana Barker Gage died on the 10th November 1884 at the age of 76.