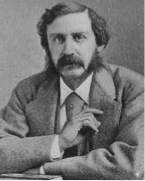 Francis Bret Harte was an American poet, playwright, journalist, literary critic and short story writer. Many of his pieces featured characters from the California Gold Rush such as the miners themselves and their gambling habits. He travelled widely across America and in Europe, gathering inspiration for future projects all the time.
He was born Francis Brett Hart on the 25th August 1836 in Albany, New York State. Quite soon his father, who was a Jewish immigrant and flourishing merchant, decided to change the family name slightly, to Harte. Later on Brett made another subtle change, dropping a letter from his first name and being known from there on as Bret Harte.
Little is known about his childhood but it is believed that he went to school up to the age of 13. He was an avid reader and writer and his first published piece of work came out when he was only 11 years old. This was a satirical poem called Autumn Musings but was not well received by his family who ridiculed the boy's work. This could have nipped a promising literary career in the bud but he persevered with his writing. Perhaps family life was not to his liking as he moved to the small Californian coastal town of Uniontown (now called Arcata) in 1853 and took up a variety of jobs there including mining, teaching and journalism. He spent some time on the Wells Fargo stage coaches, usually guarding the valuables boxes, and his experiences with the drivers prompted a character in future books called Yuba Bill.
At one point in his journalistic career there his life was threatened because of an article he wrote in the local paper condemning those white settlers who had been responsible for the callous massacre of hundreds of Wiyot Indians in 1860. Accused of cattle rustlings, they were brutally slaughtered although, in the event, most of those who died were elderly men, women and children. Harte wrote the following editorial in the Northern Californian newspaper:



Harte had to flee for his own life shortly afterwards and ended up in San Francisco where he met and married Anna Griswold in August 1862. He concentrated on his literary output, particularly parodies of other writers and satirical pieces. The great English detective creation Sherlock Holmes was parodied in Harte's The Stolen Cigar Case which featured a character called "Hemlock Jones". He was much praised for his work by the likes of Mark Twain and Ellery Queen and invited to submit articles and stories to the prestigious Atlantic Monthly magazine and he contributed to many others besides.
Harte heard of the death of Charles Dickens in the summer of 1870 and penned a poem as a tribute to the great man. He called it In Dickens Camp and here are the opening verses to this poem: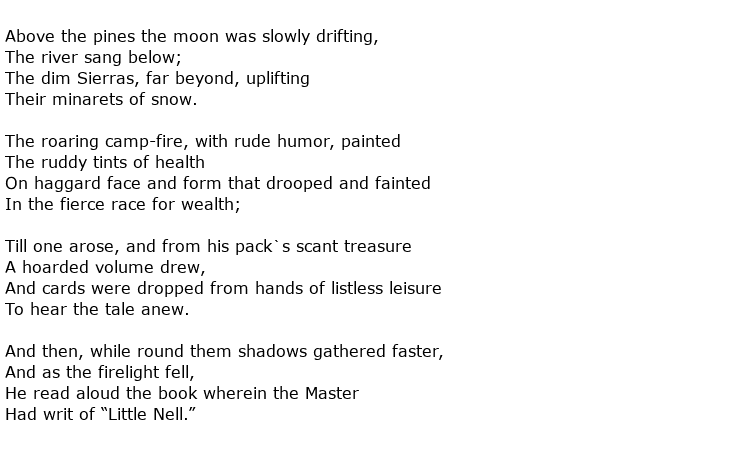 Harte was a popular, and very well paid, writer during the early years of the 1870s and he moved back east to further his career. Unfortunately his star began to slowly dim and he and his family found themselves struggling badly during the 1877 winter. He took up the position United States Consul in the northern German town of Krefeld although this was not a popular appointment amongst many of his contemporaries. He remained in Europe for 24 years, including time spent in England and Scotland. He never returned to his homeland.
Francis Bret Harte died of throat cancer on the 5th May 1902 at the age of 65. He was living in the Surrey town of Camberley at the time, separated from his family by choice and circumstances.