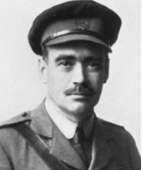 Francis Sherman was a Canadian poet and banker who had the distinction of being "the youngest man in Canada" to hold the post of bank manager, at the age of 27. His literary output was quite considerable, with a number of titles against his name, especially towards the end of the 19th century.
He was born Francis Joseph Sherman on the 3rd February 1871 in the New Brunswick town of Fredericton. He went to school at the Fredericton Collegiate School and it was here that he came under the influence of headmaster Mr Parkin, a former student at Oxford University who was a great advocate of the poetry of writers such as Swinburne and Rossetti. Sherman went on to study at the University of New Brunswick at the age of 15 but he had to withdraw at the end of the first year with his family in dire financial straits.
He managed to secure a post at the Woodstock, New Brunswick branch of the Merchants' Bank of Halifax, and thus began a long and successful career in banking. After a year he moved to his home town branch. He met the famous Canadian poet Sir Charles G.D. Roberts in 1895 who recognised Sherman's potential as a writer, encouraging him to publish his first book one year later. This was a small collection of ballads and sonnets under the title Matins. It was an immediate success and received much praise from fellow writers and critics. Roberts described it as it "a work of considerable significance" and noted that



Here is a poem from that first book, an evocative description of a flower standing tall in a meadow after the harvest has been gathered in, enjoying the sun before the onset of winter. It is called The Last Flower: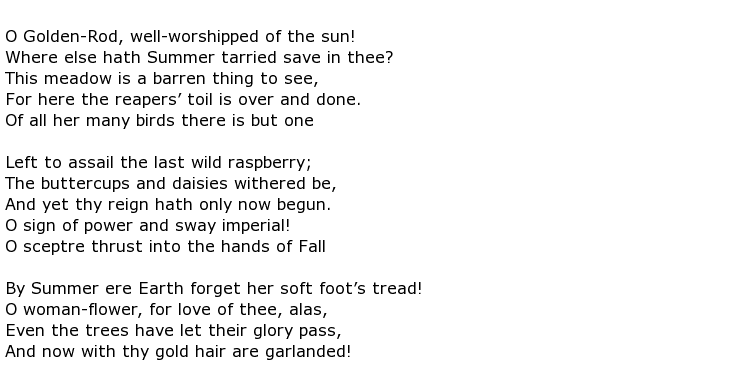 Alongside the success of his poetry was, of course, his rapid transition up the banking ladder. His appointment as manager of the Fredericton branch was soon followed by a transfer to the bank's Montreal head office and, from there, he was sent to the Caribbean to promote the company there before a name change to the Royal Bank of Canada was implemented in 1901. Sherman remained in Cuba until 1912, enjoying many outdoor pursuits and, seemingly, turning his back on his writing career.
On the outbreak of war in 1914 he enlisted as a private soldier initially but eventually rose to the rank of Major in the Royal Canadian Pay Corps. Although he survived the war his health was badly affected by his time in France and he had to resign his position at the bank in 1919. He moved to the United States and met and married Ruth Ann Sullivan in Philadelphia in 1921 and they had two sons. Unfortunately he only had a few more years of life ahead of him.
Sherman's contribution to Canadian literature was significant with collections of poetry including In Memorabilia Mortis and The Deserted City. He wrote a remarkable long poem called A Prelude, which was written in a very complicated Italian verse form known as the Terza Rima, drawing much praise. Roberts noted that Sherman displayed "unfaltering technique throughout" and it was something that "….scarcely any one else except Shelley has known how to handle successfully in English". Sir Charles wrote the foreword for Sherman's Complete Poems which were published in 1935.
Francis Sherman died on the 15th June 1926 in Atlantic City, New Jersey but his body was returned for burial to his home town of Fredericton. He was 55 years old.