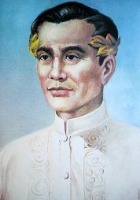 Born in 1788 in Bulacan, Francisco Balagtas is rightly seen as one of the literary greats of the Philippines, a prolific romantic poet known for his epic Florante at Laura. Born into a life of poverty, from a young age he was hungry for knowledge and, after attending school in Bigaa, went to Manila where he became a servant to a wealthy family in Tondo.
It was a moment of fortune for the young man. The master of the house saw that Balagtas was interested in his many books and allowed him to further his education. Francisco Balagtas grabbed the opportunity with both hands and earned several degrees, coming under the wing of influential writer and poet Jose de la Cruz.
In 1835, Balagtas found himself in the city of Pandacan and started a relationship with Maria Rivera who would serve as an inspiration for his future epic Florante at Laura. There was trouble on the horizon though as she had another suitor in the form of the Mariano Capule, a man of influence in the region. Capule used his wealth to get Balagtas arrested on trumped up charges and the poet was sent to prison.
It was there he wrote Florante at Laura, in the local dialect of Tagalog, as opposed to the Spanish literary works were normally written in. It was published on his release from prison in 1838.

Balagtas moved to Bataan in 1840 and served for a while as a Justice of the Peace and a translator. He became involved with a secret society of rebels and wrote prolifically. During the next few years he would produce a number of poems and plays such as Mahomet at Constanza and Rodolfo at Rosamunda. He also met and married Juana Tiambeng. They would have 11 children together but only four would survive into adulthood. Following a government decree a few years later, Balagtas was forced to adopt a Spanish surname, Baltazar, a name his children would carry from that point forward.
Shortly after, he was again sent to prison , on a charge of shaving the head of a house maid, only to be released 1860 after selling off a good deal of his land to pay for damages. He continued to write poetry, particularly awits, or long narrative poems, to support his family but was by then in ill health. He died in 1862 at the age of 73. On his death bed, he made his children promise that none of them would become a poet like their father.

When he died, Francisco Balagtas left behind a large number of half-finished manuscripts which were lost in a fire in 1892. He remains a folk hero in the Philippines and has many streets and places named after him.