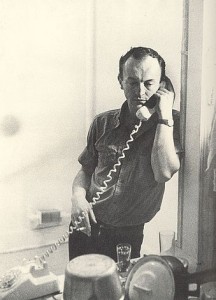 Born in 1926 in Baltimore, Frank O'Hara went on to become the leader of the New York School that boasted such luminaries as John Ashbury, Alice Notley and Kenneth Koch. His poetry, like that of many writers at the time, moved away from the stuffy academic verse of the past to a more musical and immediate style that often reads like diary entries.
O'Hara spent his early formative years in Grafton, Massachusetts, going to high school and traveling into Boston to study. He joined up for the Second World War and was posted to the Pacific on board the destroyer USS Nicolas. On being discharged from the navy at the end of the war, O'Hara used GI funding to go to Harvard University, though his studying was, at best, irregular. He was writing by this time, influenced by the music of the time and poets such as Rimbaud and Pasternak.
Following graduation he went on to do an MA in Literature at Michigan University before moving into a New York flat with his long-time lover and friend Joe LeSeur. He began working at the New School, famous for its progressive teaching and intellectual openness. Throughout his life he was in love with the art of painters such as Jackson Pollock and Larry Rivers and became one of the first poets to also write art critiques. He started working as a clerk at the Museum of Modern Art and eventually became a curator even though he had never been trained for the job.

Sociable, warm and passionate, O'Hara was perhaps the epitome of the New York socialite, with a large number of friends and lovers. Once in the city he began to write more and his work often presents a snap shot of life in New York at the time. In his poetry he is able to separate himself from what is happening and present often humorous studies of a life in progress. He dismissed his own poetry as something quick and informed by the moment, often written hastily and then put away in a desk drawer only to be forgotten.
Throughout he was influenced by surrealist and expressionist artists such as Pollock and Kline, and poets like Mallarmé and the Russian Mayakovsky. His work appeared in The New American Poetry in 1960 and in 1965 O'Hara published Lunch Poems which won him more plaudits. He was not an organized poet and was not one to actively look for publication. This casual approach was made all the more poignant by his untimely death a year later.
At his most prolific, he wrote anywhere and everywhere – on ferries, in offices and in double quick time. His manifesto Personism was written in less than thirty minutes and was typical of the natural, almost throw-away process O'Hara brought to his art.
The extent of his writing was not totally uncovered until after his death, and was later published in The Collected Poems of Frank O'Hara in 1971. His work was in tune with new art movements and the creativity of the late 50s and 60s and it challenged norms even though in the last three years of his life he wrote only three poems.

In 1966, O'Hara was on Fire Island Beach when he was struck by a buggy. He died the next day from a ruptured liver aged just 40.