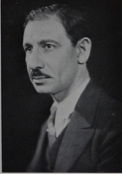 Franklin P. Adams, more often just known by his initials F.P.A. in American journalistic circles, was a writer of poetry as well as being a popular newspaper columnist. He often appeared on the radio as a panellist on a quiz show which was aired by NBC between 1938 and 1951. His ready wit and great intelligence were put to good use when attending meetings of the Algonquin Round Table which was a group of critics and writers who met during the 20s and 30s at a New York City hotel of the same name.
He was born Franklin Leopold Adams on the 15th November 1881 in Chicago. On confirmation into the Jewish faith at the age of 13 he dropped the Leopold and added the middle name Pierce instead. His education included graduation from the Armour Scientific Academy at the age of 18 and a single year of study at the University of Michigan. Although his working life began in the insurance business this did not last long and, within three years, he was working for the Chicago Journal, being responsible for both a humorous column, called A Little about Everything, and also one on sports.
In 1904 he moved on to the New York Evening Mail, where he again produced a witty column, this one called Always in Good Humour. This was where he began publishing his poetry though and one of his contributions to the paper became a well-known piece of work about a Chicago Cubs baseball "double play" involving the same three players. The short poem is called Baseball's Sad Lexicon and is reproduced here:



Adams was becoming well known as a witty columnist and his work earned him a position at the New-York Tribune. His fame rapidly spread, with his new column The Conning Tower being described by some critics as "the pinnacle of verbal wit". He had many friends in the literary world and the likes of Edna St. Vincent Millay and Dorothy Parker, amongst many others, were co-opted into making contributions to this column at various times. Indeed, some who were barely known used The Conning Tower as their launch pad to greater glories. F.P.A. inspired others to write and many were in awe of his great talent as a humourist.
His journalistic talents were also utilised by the military newspaper Stars and Stripes during the First World War. He was a serving soldier, working in intelligence, while continuing to write whenever he could. Once hostilities were over he returned to New York, working for a succession of papers until his retirement in 1941.
Although Adams was a prolific poet, many of his pieces were only seen in the various newspapers and periodicals that he wrote for. Poetry was, though, included in books such as Something Else Again, published in 1910. He was well known as a satirist and he transferred this skill to the stage on one occasion in 1922 with a production called No Sirree! which only appeared for one night during April of that year. It poked gentle fun at a popular European touring revue of that time called La Chauve-Souris. Adams managed to get many of his friends from the Algonquin involved and the troupe of "chorus girls" included names such as Helen Hayes and Tallulah Bankhead.
The multi-talented Adams also turned his hand to classical translations such as work by the ancient Roman lyric poet Horace. It could be said that he was a constant student of literature and life in general, as evidenced by the following quote that was attributed to him:



Franklin P Adams died on the 23rd March 1960 at the age of 78.