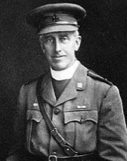 Frederick George Scott was a Canadian poet, Anglican priest and lover of the role of the British Empire in world affairs.  Besides his lyrical and often patriotic poetry he wrote a number of hymns in praise of Canada's role in supporting the British in conflicts such as the Boer War and the First World War.  He lived for much of his life near the Laurentian mountains of Southern Quebec and became known as the "Poet of the Laurentians".
He was born on the 7th April 1861 in Montreal and grew up with ambitions to become a priest.  He graduated with a BA degree from Bishop's College, Lennoxville in 1881 and went back to do his Masters', achieving this three years later.  Before that though he studied theology at London's King's College and then attempted to enter the Anglican Church of Canada.  He was refused at first because of his Catholic beliefs but he went back to England and was ordained in 1886 in Essex.  He was then accepted into the Canadian Anglican church.
His clear love of Empire drove him to enlist in the British Army in 1914 even though he was already 50 years old.  He served as a chaplain, attaining the rank of Major.  One of his sons, Henry, followed him into the service but was tragically killed at the Battle of the Somme in 1916.  Scott retained his connection with the military after the war as chaplain to the army and navy veterans organisation.  His loyal service was not forgotten by Winston Churchill when attending a top secret military conference in Quebec in 1943 where President Roosevelt was also in attendance.  Scott was invited to recite some of his poetry to the delegates.
His literary output was considerable, running to at least thirteen books of patriotic and Christian verses.  His name is listed amongst members of the literary organisation called the Confederation Poets, other members including Bliss Carman and Charles G D Roberts.  Much of his work was of a deeply spiritual nature, often revealing a pessimistic side to his nature as was quite common amongst poets of that time who were writing about their faith.  His first collection came out in "chapbook" format in 1885 under the title Justin and Other Poems.
Scott was certainly recognised as a gifted writer amongst his contemporaries, a good example being the publisher John Garvin who produced an anthology in 1916 called Canadian Poets which included several pieces from Scott.  He said at the time that he had



Perhaps his best-known poem is one called The Unnamed Lake.  It is a charming, brooding portrayal of a lonely, mountain lake that has hardly ever been seen by human eyes.  It's a powerful piece but lyrical in style.  Here are the opening verses and the last verse of this poem: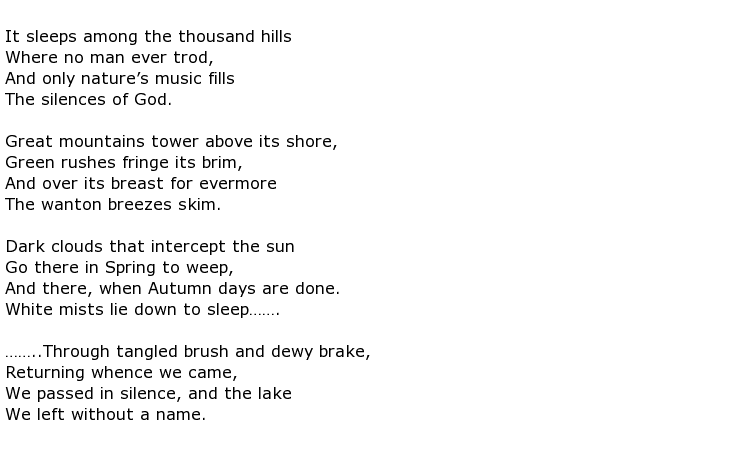 The nature of the man is summed up very well by these words written in The Canadian Encyclopaedia which call him



  He was decorated twice during the First World War.  In 1916 he was made a Companion of the Order of St Michael and St George.  In 1918 he was awarded the Distinguished Service Order.
Frederick George Scott died on the 19th January 1944 at the age of 82.