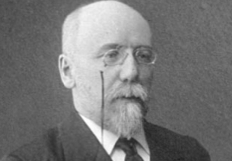 Fyodor Sologub was a Russian poet, novelist and playwright who was a member of the Russian Symbolist movement of writers and artists.  He sometimes used the first name Theodor alongside his work which was often of a pessimistic, morbid nature.  He adopted the European fin de siècle style and it is believed that he was the first Russian writer to do so. While more famous for his novels, his poetry was often praised.  Fellow Symbolist poet Valery Bryusov said that his deceptively simplistic approach possessed a "Pushkinian perfection of form".
He was born Fyodor Kuzmich Teternikov on the 17th February 1863 in St. Petersburg.  Family life was hard, his father a former Ukrainian serf and now a poor tailor until his death when his son was only four years old.  Fyodor's mother took her two children to live in an aristocrat's house where she was employed as a servant.  Despite this inauspicious start the boy was well educated and graduated from the St. Petersburg Teachers" Institute in 1882.  He managed to secure a teaching post and took his mother and sister with him when he relocated to Kresttsy.
He soon demonstrated a talent for writing and he had his first bit of published work, a poem called The Fox and the Hedgehog, included in a children's magazine in 1884.  His work took him to a number of different remote locations and he began to suffer pangs of frustration about being away from the centre of things.  He spent some ten years in what he called a "frightful world of backwoods provincial life" but this was ultimately responsible for a novel that he wrote later, based loosely on this time.  It was called The Petty Demon and became one of his most famous projects.
Sologub was hearing about the new "Symbolist" writers such as Dmitry Merezhkovsky and Nikolai Minsky and longed to visit St Petersburg to meet them.  He managed a trip some time during 1891 and was lucky enough to meet Minsky and this encouraged him to return to the capital permanently.  He secured a mathematics teaching post in the city and carried on with his writing.  He had pieces published in an influential literary magazine called Severny Vestnik and Minsky, by now a friend, suggested that he should not be using his birth name (Teternikov).  They decided that "Sollogub" was a good name but this was changed to Sologub to avoid confusion with a nobleman of the same name.
During the year 1896 he published three books, including one collection of poetry.  These met with some success and more followed.  He completed his disturbing novel The Petty Demon in 1902 and this could be compared with some of his gloomy poetry,  a good example being one called Devil's Swing.  This is about an imaginary meeting with Satan on a river bank where the author is pushed on a suspended swing to and fro by the hand of the devil himself until, inevitably, it ends in disaster.  Here are the opening verses: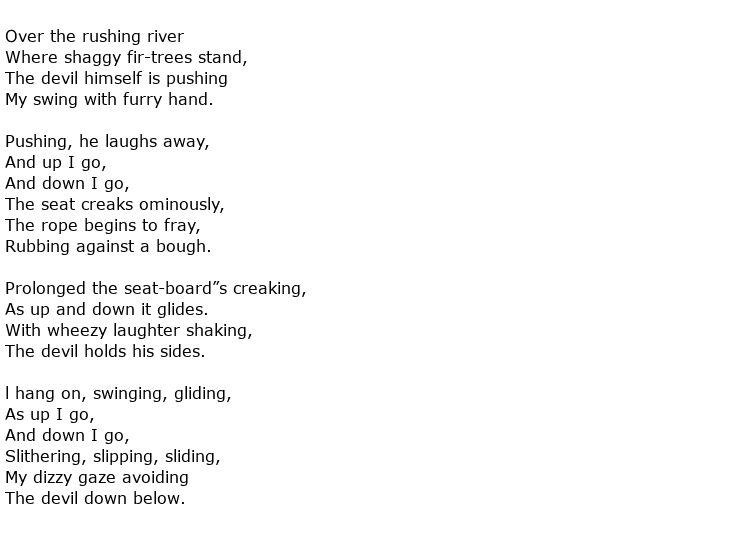 He shared a home with his sister and they began to attract fellow writers and artists for group literary sessions which he called "Sundays".  He was very close to his sister and was devastated when she died of tuberculosis in 1907.  This prompted him to retire from teaching and he concentrated on his writing.  He also got married the following year, to a translator.
Russia was in turmoil over the coming decade with war ravaging the country and then, of course, came the revolution of 1917 which severely affected writers like Sologub.  He was unable to publish any of his work under the new order and he and his wife soon fell into a state of despair.  They had been trying to get permission to leave Russia but tragically, just as authorisation had been granted, his wife threw herself off a river bridge and drowned in the river below.
Sologub's grief at this event was considerable and he referred to her death in a 1921 poem with the following lines:

He decided to remain in Russia and, gradually, things improved and he was able to get his work published again although none of his new work was put up for publication.  His health began to deteriorate in 1927 until it got to the point where he was unable to leave his bed.
Fyodor Sologub died on the 5th December in Leningrad.  He was 63 years old.