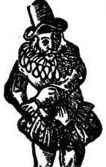 Gabriel Harvey was an English writer and scholar of the 16th and 17th centuries who claimed to be the inventor of the English version of the hexameter metre in verse that was a standard of so many classical pieces in Latin and Greek literature. He might have attained greater heights as a writer but for a long-running feud with the influential Elizabethan pamphleteer Thomas Nashe who was scathing in his reviews of Harvey's work.
Little is known about his early life but it is believed that he was born sometime around 1552 or 1553, the son of a master rope maker and yeoman farmer in the Essex town of Saffron Walden. He was well-educated, firstly at his local grammar school and then at Christ"s College, Cambridge where he studied until 1566. Four years later he was made a fellow of Pembroke Hall College, also in Cambridge, and he formed a strong friendship with future poet Edmund Spenser.
Harvey was a great champion of the idea of imposing Latin rules of quantity on all new English verse and has been quoted as saying that he wished to be



He was a member of a literary group called Areopagus. Fellow members were Philip Sidney and Edward Dyer and, in a letter to his friend Spenser, Harvey said that the group were promoting 



His work soon came to the attention of Thomas Nashe who began to belittle Harvey's poetry with quotes such as the following which appeared in the periodical Strange Newes:



Nashe also mocked him with the following witty couplet:



Harvey made other enemies during his long lifetime, probably starting during his time at Pembroke. The other fellows didn't much care for him and took steps to delay the granting of his Masters' degree. While many saw him as quarrelsome, his support and friendship for Spenser shone out like a beacon. It is possible that Spenser had been one of his pupils and, as such, he felt a responsibility for his career development. He could not, of course, avoid the bad reviews from the likes of Nashe but, much later, the English literature professor Henry Morley wrote in the March 1869 Fortnightly Review that

Here is a short example of his work, a poem called A Charm for a Mad Woman:



Despite his earlier difficulties in college, he became junior proctor of Cambridge University in 1583 and, two years later, was elected Master of Trinity Hall. Unfortunately though reports suggest that he never took up this appointment as the decision was quashed at court. He had royal connections which should have helped his career, an example being an occasion when Queen Elizabeth visited Sir Thomas Smith at Audley End House. Harvey's role was to "dispute publicly before Her Majesty". He also enjoyed the patronage of Robert Dudley, the Earl of Leicester but, despite this, he failed for a second time to take up the mastership of Trinity Hall when he applied for a second time in 1598.
Perhaps Harvey's literary output was stunted by criticism from many quarters but he does have the distinction of being credited with the first use of such words as "jovial", "conscious", "extensively", "idiom", "notoriety" and "rascality". His nemesis Nashe actually cited Harvey as the true creator of these words, but then went on to say that they would never stand the test of time. He was wrong!
Gabriel Harvey lived a long life and it is believed that he died some time during the year 1631 at the age of 78 or 79.