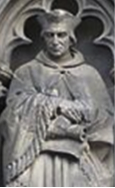 Gavin Douglas was a Scottish poet, translator of ancient classics and a bishop. He was one of the small group of poets known as The Makars, other members including William Dunbar and Robert Henryson. They wrote in an Anglic language called Middle Scots during the northern renaissance period of the 15th and 16th centuries. Douglas was well known in political and religious circles but he is better remembered for major works such as his faithful translation of Virgil's ancient work the Aeneid. This newer version was called the Eneados and it stands as the very first translation of its kind in any Anglic language.
The date of his birth is unclear but Vatican records suggest that it was sometime during the year 1476. He was born into a noble family residing at Tantallon Castle, East Lothian. He may have been christened with either of the variants of his name, such as Gawin, Gawane or Gawain. His father was Archibald, the 5th Earl of Angus. A career as a minister of the church was mapped out for him following studies at St Andrews University between the ages of 13 and 18 and he studied further in Paris. He held positions in Aberdeenshire, East Lothian and then he became dean of an Edinburgh church in 1501.
Douglas spent the next 12 years concentrating on writing and ecclesiastical duties but the Battle of Flodden in 1513 changed his focus. After the Scots were routed, and their king was killed in battle, he dedicated much of his time to matters of public interest. His noble family connections put him in a good position with Margaret Tudor, the slain king's widow, and he was a personal adviser to the Queen Regent on matters of state. She granted him the Abbacy of Aberbrothwick although this did not last due to political in-fighting, not least because he was prominent in moves to get Margaret and her son moved to the court of King Henry VIII in England.
Douglas recovered his position though and was eventually made Bishop of Dunkeld in 1516. This gave him much power, both at home and in Europe. He craved even more, such as the archbishopric of St Andrews, but his career was tragically cut short when he fell ill during a period of exile in London and succumbed to the plague like so many others had already done.
His best literary work was done before he reached the age of 40 and little of it exists today. In addition to the above mentioned Eneados he wrote other long pieces of poetry such as The Palice of Honour, written in 1501. This was at least 2000 lines, written in nine-line stanzas, and took the form of a dream allegory. Other work included Conscience and, possibly, King Hart. His most significant work was Eneados though which was completed in 1513. Here are the opening lines from this huge piece of work:



Despite his growing influence as a statesman, church minister and writer he was forced into exile during the year 1522 and found a safe refuge in London. However the plague was rampant at this time and he was struck down with this fatal illness.
Bishop Gavin Douglas died in September 1522 at the age of 46.