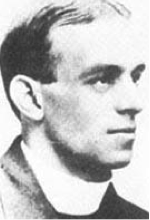 Geoffrey Anketell Studdert Kennedy, MC was an English poet and Anglican priest who was immortalised for his work with wounded soldiers of the First World War. His pastoral and humanist care earned him the epithet 'Woodbine Willie' because of his habit of distributing cigarettes of that name to the men. His distinguished military career earned him the Military Cross, awarded for a stunning act of bravery.
He was born on the 27th June 1883 in Leeds into a large family; he was the seventh of nine children. His father, a local clergyman, was a Dubliner and, because of this and his Irish ancestry, Geoffrey always considered himself to be an Irishman, as opposed to being a Yorkshireman. His early education included Leeds Grammar School but he went to Trinity College, Dublin to study for a degree in divinity and the classics. He obtained this in 1904 and returned to England to train as a clergyman at Ripon College. His first two posts were as a curate in Rugby and then vicar of a church in Worcester.
As war broke out Studdert Kennedy went to the front line as a military chaplain and soon became popular with the wounded men that he ministered to every day. During the 1917 Battle of Messines in Flanders he risked certain death by bravely running into no man's land between the trenches to help recover wounded soldiers, winning the Military Cross for his outstanding efforts. It is worth quoting the citation here:



Like many other poets of that era he wrote about his war time experiences and these were collected into two volumes. Rough Rhymes of a Padre came out in 1918 and More Rough Rhymes the following year. Many of these poems were written in a jaunty, vernacular style despite their grim subject matter and a good example was one dedicated to the brave men, like himself, who went out to collect the wounded from an often dangerous situation. Here is the opening verse of the poem To Stretcher Bearers: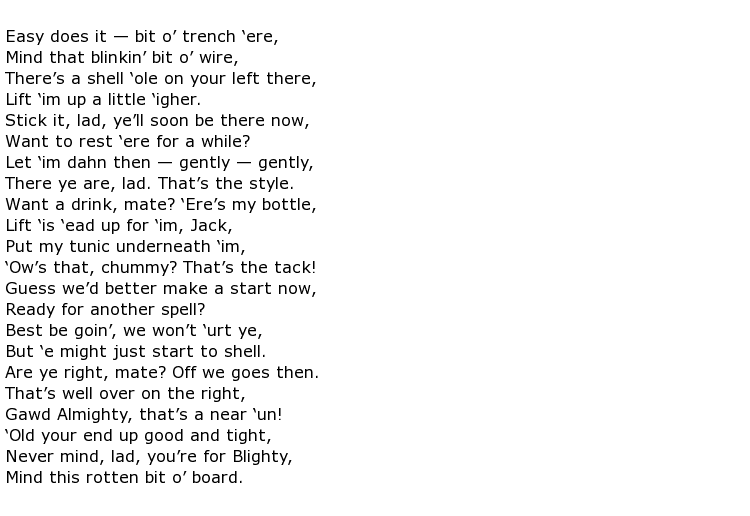 As they had done so for many others his wartime experiences changed his attitude dramatically to military action as a solution to problems. He became a pacifist and Christian Socialist and was now working in London. Two of his post-war books reflected his new outlook. Lies, published in 1919 and Democracy and the Dog-Collar (1921) were attacks on not only the Church but also on governments and capitalism. He spoke up for the common man at every opportunity as he became a prolific public speaker on Industrial Christian Fellowship tours around the country.
Studdert Kennedy was famous for his emotional, heart-felt sermons and a newspaper report from 1928 described the scenes at his packed meetings where, invariably,


He kept up a relentless schedule of work which, ultimately, cost him his life. On a visit to Liverpool he was taken ill and, suffering from extreme physical and mental exhaustion, he never recovered.
Geoffrey Anketell Studdert Kennedy died on the 8th March 1929 at the age of 45. Shamefully the Dean of Westminster refused to sanction a burial in Westminster Abbey because of the socialist, anti-church pronouncements that Kennedy had made in the preceding years. Instead he was buried in Worcester and the funeral was well attended by ordinary people who had appreciated his efforts on their behalf. "Woodbine Willie" would be much missed.