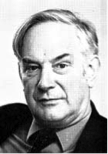 Geoffrey Grigson was a 20th century English poet and literary critic whose cutting critical reviews of other writers' work often made him enemies. Additionally he was a naturalist and literary magazine editor during the 1930s. His own poetic output was considerable, numbering some thirteen collections published during his long life time, and he often used the pseudonym Martin Boldero.
He was born Geoffrey Edward Harvey Grigson on the 2nd March 1905 in a small Cornish village called Pelynt which is quite close to the coastal town of Looe. He grew up in a large family of seven brothers, the son of the local clergyman who had moved from Norfolk to the south west. This idyllic part of the country had an inevitable influence on his outlook on life in general, and writing in particular. He had artistic friends in nearby Polperro who taught him much about the natural world. He went to school some distance away, in Leatherhead, Surrey. He then went up to Oxford where he studied at St Edmund Hall college.
Following his graduation Grigson found himself on the staff of the Yorkshire Post newspaper at their London offices and he then took up the editorship of the now defunct Morning Post paper, also in London. He was keen to make his name as a poet though and, between 1933 and 1939, edited an influential magazine called New Verse, occasionally contributing his own work.
His love of nature was a recurring theme in many of his poems, a good example being Two Are Together which is reproduced below:


As the Second World War broke out Grigson's editorial skills and experience were utilised by the BBC's Monitoring Service, a department that concentrated on worldwide events. He was based in the west country at Bristol and Worcester. It may be that he was remembered for this work much later when he appeared on the famous radio programme Desert Island Discs in 1962, where the subject is given the opportunity to talk about their life and to choose favourite pieces of music.
In 1946 he was instrumental along with men such as Peter Gregory and Roland Penrose with the founding of the Institute of Contemporary Arts in London and this organisation were great supporters of British watercolour artists over the following years. His diverse writing career took in travel reviews and books on art, in particular featuring the work of sculptor Henry Moore and painters such as Wyndham Lewis. He wrote knowledgeable pieces on botany and the English countryside alongside his significant output of poetry. As part of the Festival of Britain celebrations in 1951 Grigson edited a series of guidebooks called About Britain which ran to thirteen parts.
Much of his life was spent living in Wiltshire although he did have a spell in France as well. The Loir-et-Cher village of Trôo features in a number of his poems. One tragic fact of his life is the fact that he had lost all of his six brothers by the time he, himself, was 43 years old. Five of them were victims of the two world wars and the other died in an air accident in Pakistan in 1948.
Geoffrey Grigson had three children by two wives, the first of which helped him to set up the New Verse magazine. He died in the Wiltshire village of Broad Town on the 25th November 1985 at the age of 80.