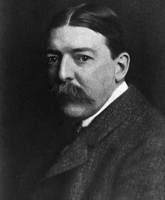 George Edward Woodberry was an American poet, university professor, literary critic and man of letters.
He was born on the 12th May 1855 in the seaport town of Beverly, Massachusetts.  His initial education came at the Phillips Exeter Academy before going on to Harvard College in 1872.  Unfortunately his health failed him, causing an interruption to his studies.  He started again in 1875, graduating two years later.  While at Harvard he caused some controversy with an essay called



The Committee of the Faculty in charge banned him from presenting it orally because they disapproved of the subject matter but friends later helped Woodberry to get it printed, although in small numbers.
His early work was included in a collection of poems called



published in 1876 and this helped him to secure a post as acting Professor of English and History at the University of Nebraska during the period 1877-78.  He gave this up when he moved to New York to join the staff of a weekly magazine called The Nation, as assistant editor.  One year later he was on the move again, this time to Cambridge for more editorial work.
He was making regular literary contributions to publications such as



but then, in 1880, the call came from Nebraska to return to his professor's post.  This lasted for two years and he followed this with a period of intense writing back home in Beverly.  This included a fairly low key, non-technical piece called the



and then, the following year, he wrote an acclaimed study for the



which was simply titled Edgar Allan Poe.  Critics considered this to be the definitive study of this famous writer, Woodberry doing



During the late-1880s he made two visits to Italy, the second trip being the happiest of them, and he was thus inspired to publish two books during 1890:


A poem of this time was one called Homeward Bound which illustrates, in a poignant way, the joys of sailing across the Atlantic in a westerly direction, returning home after time spent travelling.  Here is this two-verse poem: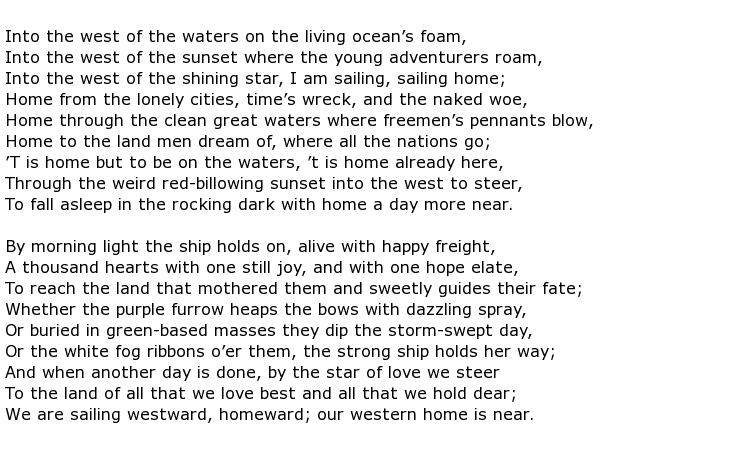 Over the next dozen years or so he was a regular contributor to the literary section of The Nation.  Academic life called him once again when, in 1891, he took up the position of professor of comparative literature at Columbia University, this post lasting until 1904.  He continued with his writing projects though, producing other notable studies of other writers such as Keats, Byron, Hawthorne and Shelley. These were either scholarly essays on the subjects, or full length, published books.
His considerable literary achievements saw him elected to the American Academy of Arts and Letters and he was awarded, posthumously, a Frost Medal for lifetime achievement in poetry by the Poetry Society of America.
George Edward Woodberry died on the 2nd January 1930 at the age of 74.