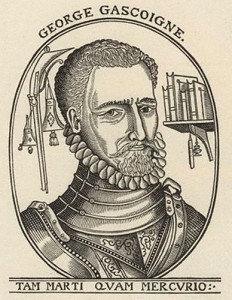 English poet George Gascoigne was born around 1535 in Bedfordshire. He part of the Elizabethan court for a while, thought largely unsuccessful, and was a soldier who fought in the Low Countries of Belgium and France including the Middleburg Siege of 1572. He was a poet of some repute and his works helped in the deification of the Queen which saw her transformation to the virgin queen who was 'married' to her people.
As with many of his peers from similar backgrounds, Gascoigne went to Cambridge and then on to Middle Temple where he studied law, joining the legal system of Gray's Inn in 1955. There is some dispute about what happened at this time but Gascoigne was thought to have been associated with a disreputable lawyer and was imprisoned for debt, leading his landowner father to disown him for a while.
Another vague rumor comes from the time he ran as Member of Parliament for Midhurst when his election was denied because of his murky past, including a prosecution for manslaughter. No further details have surfaced about this part of Gascoigne's life except that he was also noted as being a 'common rhymer'.
The normal way of circulating poetry and other written works in Elizabethan times was often to produce them in manuscript form that was circulated among certain people, and Gascoigne didn't officially publish anything until 1572. Low on money, Gascoigne rejuvenated his immediate fortune by marrying into a rich family. His relationship with the widow of William Breton wasn't without its trials but he ended up with the family estate in Walthamstow in Essex.

Gascoigne initially contented himself with translating works such as Supposes and Jocasta before writing his two most memorable works Hundredth Sundry Flowres in 1573 and Posies of Gascoigne a couple of years later. The former caused a certain amount of controversy because it seemed to intimate about courtly scandals and, though pretending to be poems from two different writers, is thought to have been penned solely by Gascoigne himself.
In 1572, perhaps because he was no longer popular at court, Gascoigne headed to war across the Channel as a soldier of fortune, landing at Brielle in the Netherlands and working under a captain's commission and seeing action during the conflict. He was taken prisoner during the Siege of Leiden and was returned to England in 1574 after two years of fighting.
He published several works on his return including The Fruites of Warres and The Princely Pleasures at the Court of Kenelworth. Most of the works that Gascoigne produced were published in the ensuing years after his return from the war and he garnered some success in the royal court at the time. He translated a number of works including La Venerie in 1561 and Hemetes which he presented to the Queen.

In 1573, he published one of his most well-known works The Adventures of Master F.J. which is generally thought to be autobiographical and is a mix of prose and poetry. Gascoigne died in 1577 whilst staying at Barnack in Peterborough. He was believed to be 42 at the time.