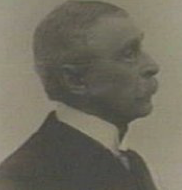 George Gordon McCrae was a Scottish-born, Australian poet and man of letters who also served the government of the state of Victoria for many years, rising to the position of Deputy Registrar-General.
He was born on the 29th May 1833 in the Edinburgh district of Leith which lies just to the north of the city on the banks of the Firth of Forth.  His father, a writer himself, emigrated to Australia when George was six years old and the rest of the family followed two years later, landing at Port Philip on the 1st March 1841.  George had received a prep-school education in London along with private tuition from his mother and this was continued in Australia, although this time the family employed a teacher from the University of Aberdeen who provided a comprehensive education for all four boys.
McCrae's first forays into adult life were as a surveyor, before joining the civil service.  He only wrote poetry as a part time occupation and it was not until he was 32 years old that he had his first collection of verse published.  This was called Two Old Men"s Tales of Love and War, published in London in 1865.  He regularly associated with fellow poets such as Richard Henry Horne and Henry Kendall amongst many others who were part of Melbourne's thriving literary circles.
McCrae's literary output also included travelogues, illustrated books and novels.  He first became inspired by the natural environment that he grew up in around Mayfield and Arthur's Seat.  The bird and animal life in that area, along with the flowers and trees, gave him an early passion for nature.  His love of the sea, first felt back in Scotland, also developed as he loved to watch the ships and boats come and go around the port of Melbourne.  He had opportunities later in life to travel by sea, making the long voyage back to Europe where he visited his homeland and France.  Later, during the 1880s, he visited Mauritius and the Seychelles and wrote about his travels in prose and poetry.  A poem coming out of this time was Morning at Sea in the Tropics.
In Australia though he found that he was fascinated by the loneliness and solitude to be found in the Bush regions and he soon began to immerse himself in Aboriginal history and traditions.  Here is a poem called The Silence of the Bush which encapsulates the mystery and deep feelings engendered by this vast, desolate area: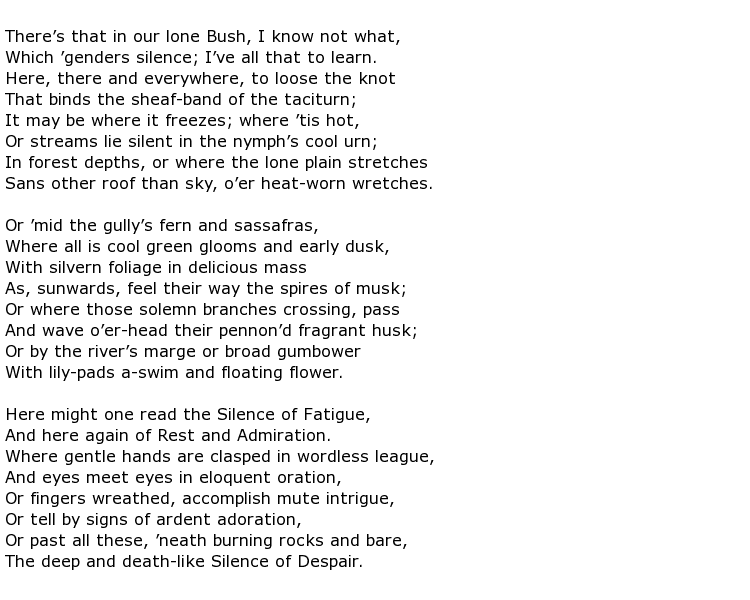 McCrae had tried professions such as surveying and banking as a young man but finally settled on government service in Victoria, beginning in 1854 and ending with his retirement almost forty years later.  He always found time to write and even dabbled in art, though not to any great standard.  Some of his drawings of sailing ships drew some praise and he liked to illustrate his tales of travel with images of the places that he saw.  Collections of his poems were published in book form, such as  The Fleet and Convoy and Other Verses, which came out in 1915.  He also submitted a great deal of work to publications such as the Melbourne Review and the Sydney Bulletin.
Some critics have called McCrae "the Father of Victorian Poetry" and he was a great mentor to other poets that he came across, some being members of the literary-based Yorick Club that he was part of for some years.  He was a popular man in Melbourne society, described as courteous with



George Gordon McCrae died at Hawthorn, Melbourne on the 15th August 1927 at the age of 94.