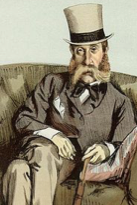 George J Whyte Melville was a 19th century Scottish poet, novelist and Army officer.  Apart from writing he was a great lover of horse riding and was enthusiastically involved in the field sports of hunting, shooting and fishing.
He was born on the 19th June 1821 at Mount Melville, which lies close to St Andrews in the north eastern region of Scotland.  He was privileged to be part of high society, his parents being Major Whyte-Melville, a wealthy landowner, and his mother was Lady Catherine Osborne, the daughter of the Duke of Leeds.  After a period of private tuition they sent him to Eton College before his enlistment in 1839 for the army.  He served as a commissioned officer, spending seven years with the Ninety-third Highlanders Regiment and then transferring to the prestigious Coldstream Guards.  He resigned his commission in 1849 after ten years' service.
Two years before that he was married Charlotte Hanbury-Bateman (The Hon) and together they produced one daughter.  On leaving military service he set about forging his career as a writer and one of his first assignments was the translation of the Roman classical works of Horace in 1850.  He followed this, two years later, with a heroic novel about a character called Digby Grand, this being the first of 21 novels.  A recurring theme in his books was hunting and he used some characters time and again, in different stories.
His first collections of poetry were



in 1869, and then



four years later.  Like his novels, the subjects of hunting and horse riding are very much to the fore in much of Melville's work.  There were poems with titles such as



Here are the opening lines to one called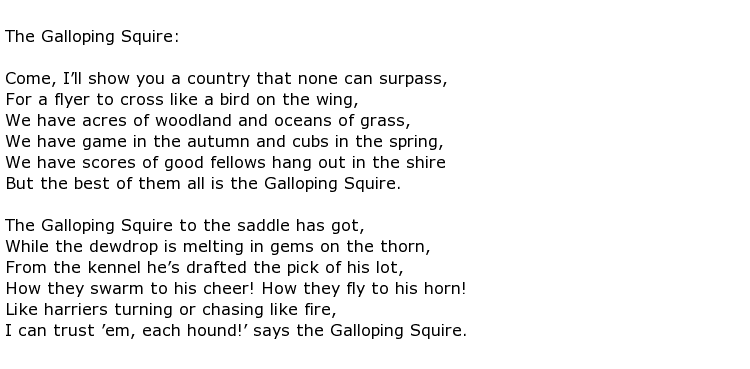 His background as a wealthy landowner and enthusiastic follower of field sports lent itself very well to his successful writing career.  Many of the characters that he wrote about, and the situations that he described, were based on personal experience and were, as one would expect, all the more authentic because of that.  There was a brief interruption to his literary pursuits when the Crimean War began in 1853.  The lure of military service was too strong for him and he enlisted, volunteering with the Turkish cavalry, holding the rank of Major.  While serving though he continued to write poetry.  Following this he returned to England to take up his old life and it was ironic then that, over twenty years later, his death should occur doing what he loved most, which was riding a horse.
George J Whyte Melville died on the 5th December 1878 at the age of 56.  He was accidentally thrown from his horse while galloping across a field close to his home in Tetbury.  He had moved to a property called Barton Abbotts three years earlier, expressly for the reason that he wanted to be close to the area where the Beaufort and Vale of the White Horse hunts operated from.