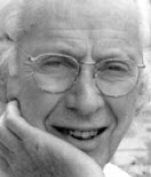 George Johnston was a Canadian lyric poet, best known for his precise use of rhyme and rhythm.  He wrote in a way that, he believed, would make it easier for the reader to memorise the poem.  He was also a linguist, specialising in Nordic and northern European languages, and he translated a number of books.  One of his best known translations was a series of Icelandic Saga books.  He spent many years teaching at Canadian universities and had a strong religious faith, leaning towards both Quakerism and the Church of England.  His kindly and spiritual nature led to him being a literary mentor to a number of up and coming young poets.
He was born on the 7th October 1913 in Hamilton, Ontario, the son of an insurance agent.  When he was ten years old the family moved to Toronto and it soon became clear to George that he wanted to be a writer.  He read literature at the University of Toronto, quoting the likes of Ezra Pound, Alexander Pope and James Joyce as being amongst his favourite poets.  He made contributions to his college magazine and two of his poems, Annabelle and The Life in August were published there in 1935.  He achieved his BA degree the following year and promptly set off for Europe.
He had a story published in the London Mercury in 1937 but, with war on the horizon, he decided to return to Canada while continuing to supply pieces to various British publications.  He joined the Royal Canadian Air Force as a war time pilot, seeing service at a number of locations.  He married his wife of 60 years, Jeanne, in 1944 and she would go on to bear him five children.  Once the war was over Johnston went back to Toronto to study for an MA, graduating in 1946, and then had a short spell teaching between 1947-49 at Mount Allison University.  He followed this with a long stretch teaching at what is now called Carleton University in Ottawa, remaining there until his retirement in 1979.
He began translating books written in the Old Norse language in 1957 and went on to publish a number of "Saga" books, the first being The Saga of Gisli.  He also had seven translated poems published in The Oxford Book of Verse in English Translation.  He specialised in Icelandic writers, but also translated Danish, Faeroese and Norwegian work.  His own poetry was seen in a published collection for the first time in 1959 under the title The Cruising Auk, which earned favourable reviews across the United States and Canada.
Much of his poetry featured family-oriented subjects and were written in an almost conversational style.  Take, for example,



which includes the following lines, in the form of a letter from the author to his wife about a forthcoming marriage:



Johnston uses a similar style of "strictly syllabic verse" in Farewell to Teaching where he outlines a reluctance to answer questions now that, in truth, he is unable to give answers to:


Johnston and his wife often held literary salons at their Ottawa home, always happy to entertain visiting poets whenever they were in town.  They ended their days in retirement living in a town called Athelstan in the south-western area of Quebec.
George Johnston died in August 2004 at the age of 90, bringing to an end their sixty-year marriage.  Nine days later Jeanne had a heart attack and also died.