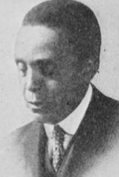 George Marion McClellan was an African American poet and writer of fictional short stories.  Throughout his life he worked tirelessly as a minister of the Congregational church to educate and inform people on the subject of racial justice and dignity for African Americans.  His work as a writer most certainly helped him in this difficult task.
He was born on the 29th September 1860 in Belfast, Tennessee.  His parents, George and Eliza, brought him up well and he achieved a Bachelor's degree at Fisk University, Nashville in 1885.  Three years later he was married to a teacher who had also graduated from Fisk.  They had two sons but one died in infancy of tuberculosis and McClellan dedicated a tender poem, To Theodore, to the unfortunate child.
He went back to Fisk to continue his studies, achieving a Masters' in 1890.  He then saw a life ahead of him as a church minister and his studies at the Hartford Theological Seminary, Connecticut, saw him achieve a Bachelor of Divinity degree in 1891.  He secured a ministry position in Nashville but then took up financial advising at Fisk University for a time.  Then followed a spell as chaplain and teacher at the State Normal School for Coloured Persons in Normal, Alabama.
All of this time he had been writing a great deal of poetry and works of prose but he was 35 years old before he had his first collection published under the title Poems.  Some of the poems from this collection appeared in an anthology the following year called Songs of a Southerner.  His literary output was considerable, including poetry and short stories, and he also produced a few works of literary criticism.  Unlike some coloured writers of the time he adopted a sentimental, more gentle approach to his work, forsaking any temptation to hector readers into his point of view.
He has been described though as an innovative writer whose work displayed a keen element of race consciousness without anger or anguish.  He touched on the sensitive subject of inter-racial romance in one of his short stories that appeared in 1906.  This was the title story of a collection called Old Greenbottom Inn and Other Stories.  He could have used this story to highlight the antipathy from the white community to this kind of love story but, instead, he suggested that it should be seen as perfectly natural, even normal.
His writings, and his teaching, very much leaned towards tolerance and acceptance of people who might lead different lives to each other.  He saw no future for the country in hatred or a lack of understanding of others' points of view.  His poem The Feet of Judas illustrates his feelings perfectly, with Jesus ministering to a man who he knew had betrayed him but who he still saw as a man worthy of a simple consideration, like washing his feet.  Here is the poem: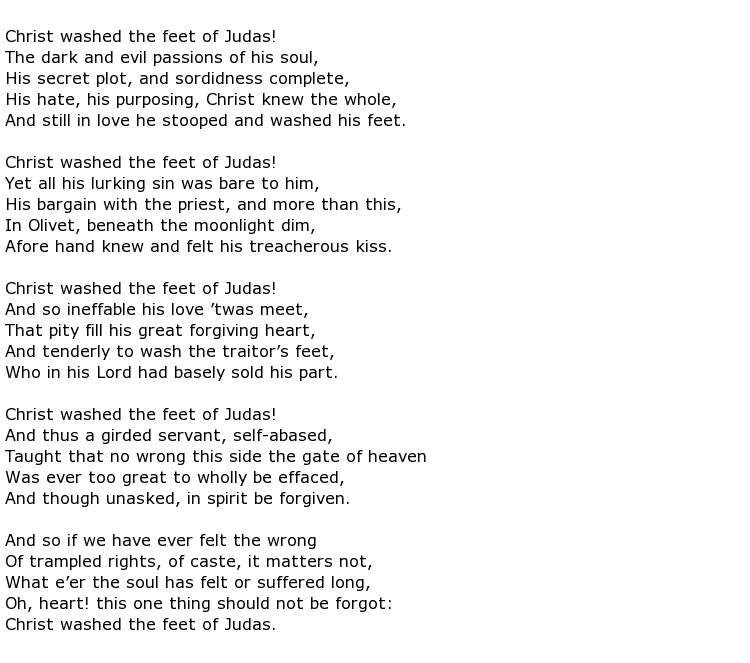 McClellan achieved much, both as a writer and a teacher.  Between 1899 and 1911 he taught Latin and English in Louisville, Kentucky and eventually became the principal of Dunbar Public School.  He sometimes struggled with his place in an American society that was still divided racially in many places but he was never discouraged by it.  A second collection of his poems came out in 1916 with the title The Path of Dreams and he is also well-remembered for an epic piece of blank verse called



George Marion McClellan died on the 17th May 1934 at the age of 73.