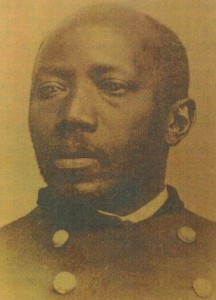 Born in 1797, George Moses Horton was a slave poet who was brought up in the Southern United States and was the first black American to have his work published in the region. He took his surname from plantation owner William Horton, growing up on an estate in North Carolina and then a tobacco farm in Chatham County. His education was gained through his own means and Horton would read little bits of poetry and compose verses in his head.
He would compose poems about the landscape, love and romance, and his life as a slave, taking them to the local farmer's market where he would sell them to the crowds there. As his notoriety spread, students at the University of North Carolina, where he delivered produce, would also buy his verses.
When Caroline Lee Whiting Hentz, the wife of a professor at the university, decided to act as patron for Horton, he was able to publish his first collection, The Hope of Liberty, in 1829. He was the first black American to have a book of literary work published and it allowed him to write down his protests at the enslavement of black people in America.
His initial hope was that the publication of The Hope of Liberty would sell enough copies and he would be able to buy his own freedom. Despite the efforts of his supporters, though, this proved impossible. It did, however, allow him to buy some free time away from his owner which he used to learn to write, putting more of his energy into poetry, something he would continue to do until the end of the Civil War 30 years later.
In 1845 he published his second collection, The Poetical Works, which again pleaded for his release from slavery. Throughout his time he earned the support of several high ranking individuals in the American south including the state governor John Owen. When Civil War broke out, which would see the emancipation from slavery in the South, Horton spent most of the time on his master's farm, working the land.
In 1865, however, he walked several miles to Raleigh to meet the Unionist army, was taken under their protection and shortly after published his third collection Naked Genius. By this time, Horton was in his 60s and spent the rest of his life in freedom, living in Philadelphia where his fame and success seemed to wane.
The exact details of his death are not known but it is thought that he passed away some time in 1883 at the grand old age of 85. He is often regarded as a genius, battling against all the odds to become the first renowned black American poet of the era. He wrote both sonnets and ballads and, whilst his early works focused more on his possible emancipation, his later poems evoke a more pastoral vein.

In his home county of Chatham he is considered as the historic Poet Laureate and has a school named after him. In 1998, Horton finally made it into the North Carolina Hall of Fame.