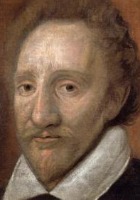 Often lost in the shadow of some his more famous compatriots, George Peele was a poet and competent dramatist who was born in Sussex in 1556. His father was reasonably affluent and worked at a local hospital as a clerk, writing two largely forgotten works on book keeping but able to provide a good education for his son.
Peele initially attended the school at Christ's Hospital in Sussex and was successful enough to earn a place at Oxford achieving a BA and then an MA, graduating in 1579 at the age of 23. A year later, he moved to London where he already seemed to have some sort of reputation for writing. Peele undertook a translation of two works by William Gager that were to be performed for Albert Laski, a visiting nobleman from Poland.
Around 1585, Peele was asked to write a work for the Lord Mayor of London, Wolstan Dixie, and in 1591 he wrote the dramatic work Descensus Astraeae which was used in part to honor Queen Elizabeth. Peele had a reputation of being a little loose with money and he married a woman who had property in 1583, quickly spending her fortune and attracting criticism from some of the satiric writers of the time including Robert Greene.
Throughout his relatively short life, Peele wrote a number of dramatic works including The Arraignment of Paris, a comedy that was first performed at the Royal Court in front of Queen Elizabeth. Other works included Edward I and The Old Wive's Tale, though there is some doubt on the exact authorship of some of the plays that he is credited with writing.

Peele is often cited as contributing to part of the Shakespeare work Titus Andronicus which is largely assumed through his liking for writing gory scenes such as in his work The Battle of Alcazar. A number of other works have been attributed to him based on his writing style and the subject matter, including Sir Clyomon and Sir Clamydes that was published in 1599, a few years after his death.
There are alternative contenders for this work according to scholars, chiefly amongst them Richard Bower, Thomas Preston and dramatist Robert Wilson. This marks a problem with assigning particular works to authors from the period and you are as likely to find modern experts who agree as disagree to a particular provenance.

A case in point is Peele's association with the works of William Shakespeare. His crudely written work Clyomon and Clamydes has been cited as an influence on a number of the bard's plays including As You Like It and A Midsummer Night's Dream. As was the trend at the time, most of Peele's dramatic work was written in verse but he also wrote poems in isolation such as The Honour of the Garter and The Praise of Chastity, all of which are much easier to attribute to the man himself.
Though not one of the poetic greats of the 16th Century, Peele was nonetheless an interesting figure and is often most remembered now for the colorful songs that populated his plays and which are still found in anthologies today. Peel died of what writer and pastor Francis Meres delightfully termed 'the pox' in 1596. He was just forty years old.