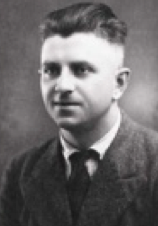 Gerrit Achterberg was a 20th century Dutch poet whose use of surreal imagery and language inspired, later in his life, a generation of post-World War II poets known as the Experimentalists.  His earlier work was very much of a sombre nature, being mostly concerned with a longed for reunion with someone who had died and he developed into a poet who used both romantic and metaphysical forms.  He was a scholarly man, often introducing new words into his work in ever-increasing innovative ways.
He was born on the 20th May 1905 in the Netherlands town of Langbroek, into a large family of eight children.  His father's days as a traditional coachman were numbered as the automobile gained popularity and he raised his family in the Calvinist tradition of the Protestant faith.  Achterberg enjoyed a good education and began his working life as a teacher in 1924.  At the same time he published his first piece of work, a collection of poems in collaboration with a friend named Arie Dekkers.  The English translation of this publication was The Songs of Two Twenty-somethings.
Such a title might have suggested that he was generally happy with his life but that was far from the truth.  In fact he was deemed to be suffering from a "sickness of the soul" when turned down for military service and, as a result, he threatened to commit suicide.  He seemed to make a kind of recovery under the guidance of Roel Houwink who acted as his mentor, encouraging him to write.  The result was a collection called Afvaart, (Departure in English), published in 1931, and it was here that the theme of lost love first appeared.  Achterberg was so affected by this work that a nervous breakdown soon followed and he was admitted to a psychiatric institution on a number of occasions, exhibiting an often violent demeanour.
This tendency to violence erupted in tragic circumstances in 1937 when he shot and killed his landlady at a time when he was engaged to be married.  His mind was so disturbed that he had attempted to force himself on the lady's daughter and, when she intervened, Achterberg killed her.  He threw himself on the mercy of the authorities and was placed under what was then called involuntary commitment.  This would now be known as "sectioning", where a person whose mind is clearly unbalanced is detained for his own, and everyone else's, protection.
Despite this situation his literary output was considerable.  He was detained for six years but, during that time and the years following, he produced some 22 collections of poetry.  A sequence of sonnets under the title A Tourist Does Golgotha and Ballad of the Gasfitter is generally thought to be his best known work.  However, reflecting his state of mind for so many years, much of his work was fairly bleak in nature.  Here is an extract from a poem called November which outlines the hopelessness felt by many at this dark time of the year:


Perhaps getting married to a woman he had known since childhood was his salvation.  He married Cathrien van Baak in 1946 and their marriage survived up to his death in 1962.
In 1959 his work earned him a literary award known as the Constantijn Huygens Prize.
Gerrit Achterberg suffered a heart attack at his home in Oud-Leusden and died on the 17th January 1962 at the age of 56.