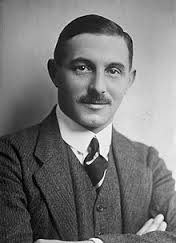 Born in 1884 in London, writer Gilbert Frankau was mostly known for his prose work but was also an important contributor to the poetry of the First World War. Although he was born into a Jewish household, Frankau was actually baptized into the Anglican Church when he was thirteen years old. His father was a merchant who had been born in Bavaria but died in 1904 when Frankau was just 20.
The young writer was educated at Eton public school and on leaving immediately joined the family cigar business, taking it over when his father died. Frankau was a prolific writer, publishing his first volume of poetry in 1901 under the title Eton Echoes. His reason for taking up the pen may well have come from his mother who was a successful writer under the pseudonym Frank Danby, noted for her portrayal of Jewish life in London at the turn of the century.
Running the family business was put on hold when war broke out in 1914 and Frankau joined the army, fighting with the British Expeditionary Force and writing at the same time for the trench magazine The Wipers Times. Back home his mother died in 1916 and, without his direction, the family business folded before he returned in 1918.
With no business to run, Frankau turned his attention to writing and produced a number of works including the novelette in verse titled One of Them. He continued to write poetry up until the end of 1918, much of which had been composed during his time with the army, before turning to the prose fiction that would bring him greater success.

Frankau wrote about romantic subjects but was also deeply political. His ambition to head into parliament was delivered a blow because he was married and divorced no less than three times. He was also critical of many in modern politics including the then influential Tory Stanley Baldwin. He wanted to be a political journalist but found that writing fiction brought in more money and, with no other means of earning a living, he devoted the time to his novels.
Frankau helped to launch the right wing paper Britannia which was backed by the owner of the Tatler and Illustrated London News. Although Frankau put all his energy into the venture, he made few friends and when it failed was roundly pilloried for his anti-British sentiments. These right wing views often got him into trouble particularly when he wrote an article in a national newspaper under the title As a Jew I am Not Against Hitler, although he later distanced himself from that position.

Failed in his attempts to get into politics, Frankau devoted the rest of his life to producing a prolific selection of novels including the Peter Jackson stories. He wrote little in the way of poetry during this time and we are left with just his early work including the poems that he wrote about the war. His two most memorable works from this period include The Guns published in 1916 and The City of Fear that came out a year later.
Shortly before his death from lung cancer in 1952, Frankau converted to the Catholic faith. He was 70 at the time.