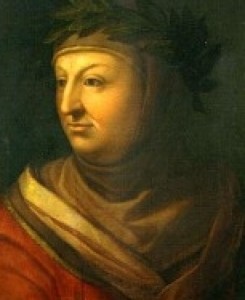 Italian poet Giovanni Boccaccio was born near Florence in 1313 and was one of the leading lights of the Renaissance, popular for the realism he brought to his verse compared to some of his contemporaries. His father was a merchant, and Boccaccio grew up in a privileged family, learning about and influenced by the works of Dante at an early age.
Although his talent lay in poetry, Boccaccio was sent to study business and law and spent nearly seven years at the Studium, also using the time to explore developments in science and literature. His father then introduced him to courtly society and he eventually moved to Naples to begin what he considered his true calling, writing poetry.
He had already produced a number of works such as the narrative epic Amorosa visione in 1342 but now began a period of great productivity. He was also beginning to innovate and brought the newly developed Sicilian Octave which was also taken up by Petrarch at the time. Boccaccio moved back to Florence after plague took hold of Naples and carried on his work, writing the Ameto, a combination of prose writing and poetry.
In 1342, Boccaccio completed the poem The Elegy of Lady Fiammetta that was largely confessional and is thought to be one of the first innovations of the psychological novel. At the time Florence was going through some turmoil with the decline of the rich and influential, which was made worse by the arrival of the plague. Boccaccio moved to Ravenna and, in 1349, began to work on his most famous piece, Decameron, completing it nearly three years later.
Decameron was an epic collection of novellas told by people who are sheltering and trying not to be taken by the plague, or Black Death as it was known. The 100 tales range from the erotic to the romantic and the tragic, and it is thought to have influenced such works as The Canterbury Tales.
In 1350, Boccaccio became more involved in governmental affairs and undertook a number of missions for the court. This included meeting and entertaining Petrarch who had a great influence on Boccaccio's future work. He produced the expansive On the Genealogy of the Gods of the Gentiles at Petrarch's encouragement and, in 1360, he began work on a series of biographies that took him 14 years to complete.

By this time there was conspiracy in the air and a number of Boccaccio's friends and acquaintances were executed following a failed coup attempt. It led him to move away from working for the government and setting up residence in the town of Certaldo. By this time he was also suffering from health problems that left him with a weak hand and effected his writing. Despite this he continued to produce some notable works including his last large undertaking Esposizioni sopra la Commedia di Dante in 1374.
Now overweight and suffering from a heart condition, Boccaccio's later years were plagued with various ailments. He died in Certaldo in 1375 at the age of 62.