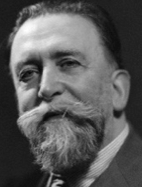 Gordon Bottomley was an English poet and playwright who was well known for his verse dramas.  He had a number of collections of poetry published along with over a dozen plays.  He was greatly influenced by the Romantic poets of his time, along with the Pre-Raphaelite Brotherhood of artists and writers of the mid-19th century.  He also greatly admired the work of writer and textile designer William Morris
He was born on the 20th February 1874 in the West Yorkshire town of Keighley.  An only child, he went to school at the local grammar school but was hampered in his development by tuberculosis which he caught at the age of seven.  This would affect his mobility and his general state of well-being for the rest of his life.  His working life began in a bank and, when he was transferred to the company's Bradford branch, his interest in the theatre began.  He saw Oscar Wilde's play Lady Windermere's Fan at a theatre in the city and he was hooked from then on.
His illness struck him down again at the age of 18 and he moved to a rural location in neighbouring Lancashire for the good of his health.  The small town environment of Cartmel would enable him to



and he took up the writing of poetry.  He found romance here too and, at the age of 21, he began a ten-year courtship of the lady who would finally be his wife in 1905.  They remained in Cartmel until the outbreak of the First World War when they moved further north.  Bottomly and his wife decided to remain in Silverdale, near Carnforth, for the rest of their days.
As mentioned above, he was very much influenced by Romantic poets such as Algernon Swinburne and Dante Gabriel Rossetti.  He liked to seek out the company of other writers and artists and occasionally entertained the likes of Edward Thomas and Arthur Ransome at his home.   His own first collection of poems came out in 1896 under the title The Mickle Drede and Other Verses and it was three more years before his second book came out, this being Poems at White Nights.  He wrote plays in between but most of these were for amateur or experimental theatre productions.
The themes found in his poetry tended to be about the place where he lived.  He loved to write about the Lakeland scenery, much like William Wordsworth, and one of his most famous poems is one called New Year"s Eve, 1913 which is a mournful piece about the church bells of Cartmel that ring out now but, perhaps with an eye on the oncoming hostilities, would not be heard for much longer.  Here is the poem: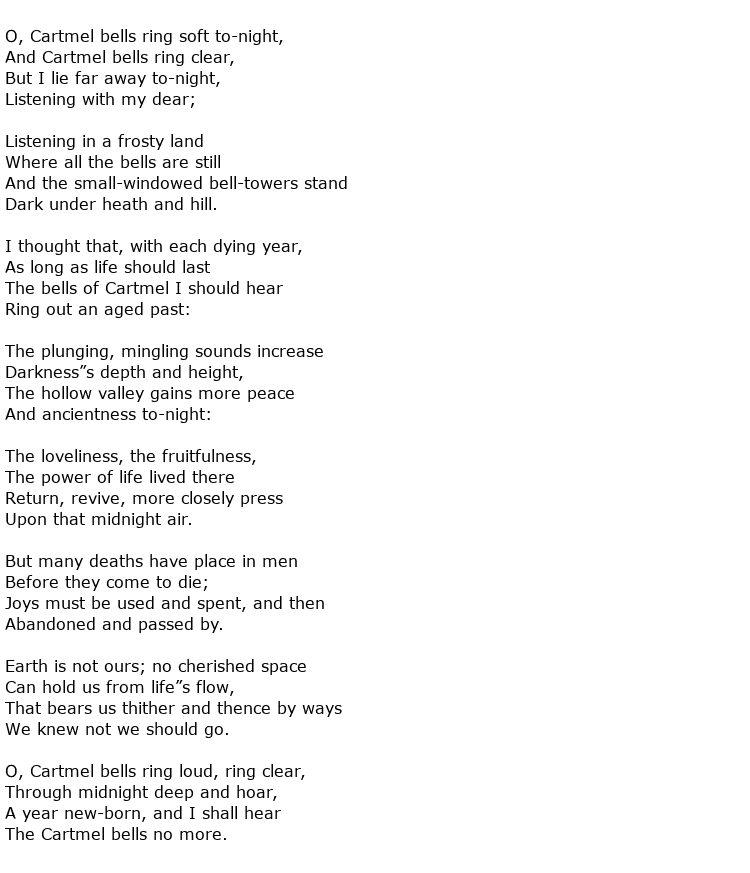 Bottomly was passionately interested in art and one of his life-long friendships was with the painter Paul Nash.  They admired and appreciated each other's work and the one encouraged the other to do better things.  He was a great collector of art with some of his paintings being gifts from friends and admirers of his writing.  In the end he and his wife had around 600 paintings and they made a gift of this collection to Tullie House Museum and Art Gallery in Carlisle, Cumberland.  Some of the pieces were of national importance so it was a generous legacy that was left to the gallery.
Gordon Bottomley died in 1948, shortly after his wife had passed away.  He was 74 years old.