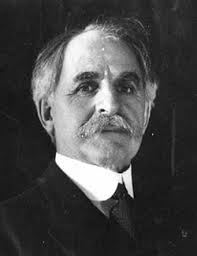 Born in 1860 in Wisconsin, Hamlin Garland was a prolific writer and was most well-known for the popular tales he told about farming communities in the State as well as his later collection of biographical memoirs. During his youth he traveled around with his family and stayed on numerous farms before moving out on his own to settle in Boston where he was determined to make a life for himself as a writer.
Garland began to write poetry during his teens and published his first poem in Harper's Weekly called Lost in a Norther which announced his close connection with the adventurous American spirit and the pioneering life that would characterize a large part of his fiction.
It wasn't until Garland was in his early thirties though that he began to achieve some success with a collection of short stories under the title Main Travelled Roads. He used this success to move to Chicago where he gave lectures on writing in a more realistic way and later also visited the 'untamed' west where he observed cowboys and made copious books of notes on the life of American Indians. It was these keen character studies that he would use in his fiction in later years.
Now a well-known writer, Garland was given the chance to write the biography of Civil War general Ulysses S Grant. In total it took 2 years to finish and was finally serialized in popular journal McClure's Magazine to critical acclaim. Garland always had a taste for adventure, something that came across in most of his poetry and fiction, and with the gold rush in full flow he next headed to the Klondike.

That experience led to the book The Trail of the Gold Seekers which proved popular with the American public. Garland managed to find the time to marry in 1899 when he was close to 40 and over the next few years published several novels that had moderate success and made him a household name.
By 1915 he had begun to tire of writing adventure fiction and moved to New York where he settled down and tried to write about his youth in Wisconsin. A Son of the Middle Border was initially serialized but then optioned by a publisher, earning Garland more serious plaudits. He followed it up a few years later with A Daughter of the Middle Border which won him the Pulitzer in 1922.

Through to the mid-1930s, Garland wrote a number of memoirs including his last offering Afternoon Neighbours that came out in 1934. By this time he had also cultivated an interest in the supernatural. In 1929 he moved to California and became involved with mediums and other psychically endowed individuals, publishing books like The Mystery of the Buried Crosses.
Garland lived out the rest of his days in Hollywood and died at the age of 79 in 1940. He was cremated and his ashes taken back to his birth place of Wisconsin where they were buried in Neshonoc Cemetery.