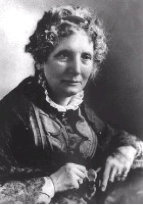 The famous 19th century American writer Harriet Beecher Stowe was best known for her anti-slavery novel Uncle Tom's Cabin which was published in 1852. This gripping story about the terrible conditions that African-Americans were subjected to at that time was a great motivator for other abolitionists like her, especially in the northern states of America. Those in the southern states often took a different view though. Indeed, the story provoked a great deal of anger amongst those who were pro- black slavery. A renowned figure who was not afraid to stand up for her beliefs, including a fair deal for married women, Stowe published more than twenty books which included travelogues and fictional novels. She was also a poet and article writer for a number of publications of the day.
She was born Harriet Elisabeth Beecher in June 1811 in the town of Litchfield, Connecticut. Her parents were devoutly religious and produced thirteen children; Harriet was the seventh in line. She was educated at a girls' school that was run by her sister Catherine and received a good education including mathematics, languages and classic literature. By the age of 21 Harriet had moved to Cincinnati, Ohio where her father was the president of a theological seminary. It was here that she joined the literary circle called the "Semi-Colon Club" and she was soon to meet her future husband, Calvin Ellis Stowe.
The pair were united in their condemnation of slavery and they harboured a number of fugitive slaves in their own home. This was very risky especially when the government passed the Fugitive Slave Law in 1850. This legislation galvanised Harriet into writing her story about slavery and it was first published in serial form in the anti-slavery journal "National Era". She said at the time:

The original title for Uncle Tom's Cabin was The Man That Was a Thing – a provocative title indeed, and one that was bound to stir the emotions of readers. Eventually the story came out in book form and sold in huge numbers. Harriet was even invited to Washington to meet President Abraham Lincoln, such was the impact of her story. It was later reported by her son that Lincoln, referring to the American Civil War, said to his mother:

A poignant example of her poetry is the one called Eliza Crossing the River which tells of a desperate negro woman's escape with her son from the pursuing slave traders. The poem shows just how desperate black people were to stay beyond the clutches of slavery with this mother willing to risk both their lives crossing an angry, partly frozen river, just to remain at liberty. The poem is included here in its entirety: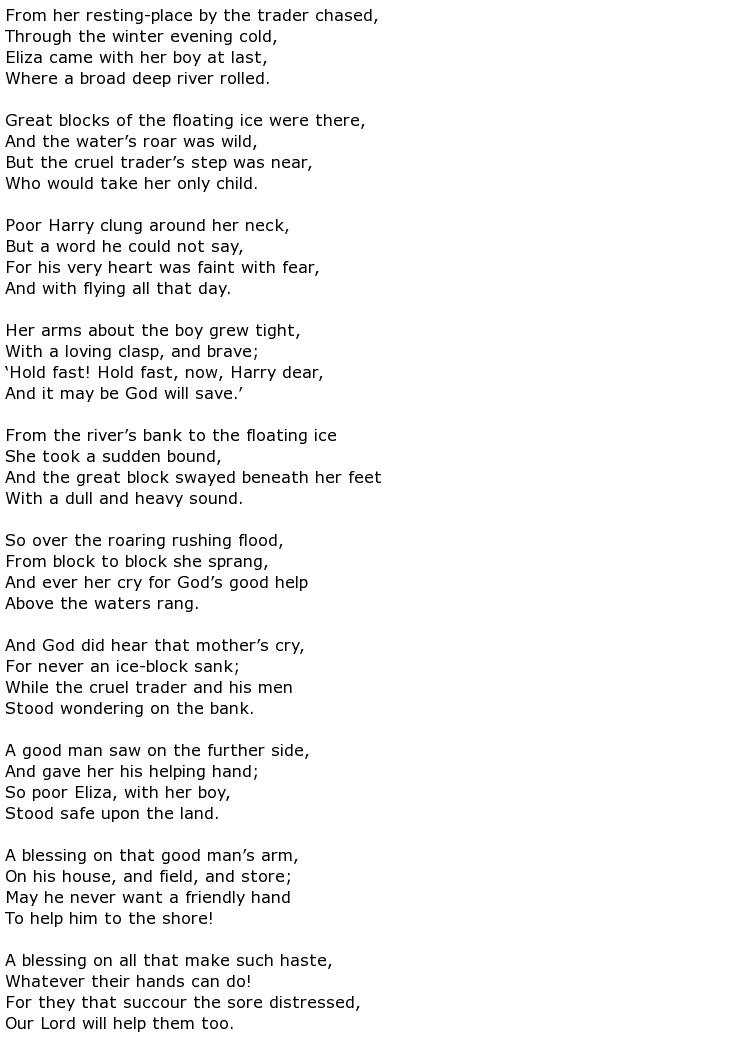 Harriet spent the last years of her life at a cottage in Hartford, Connecticut which was next door to the famous writer Mark Twain. Her health gradually deteriorated and it has been said by some historians that she suffered from Alzheimer's disease towards the end. She was a controversial figure who provoked admiration in many and ambivalence in others, depending on where in the United States you happened to live.
Harriet Beecher Stowe died on 1st July,1896, aged 85.