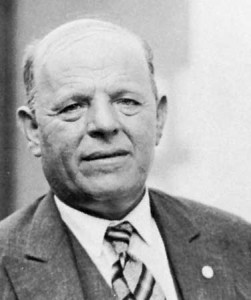 Born in Volhynia in the Ukraine in 1873, Hayyim Nahman Bailik grew up to become one of the leading forces in Hebrew poetry. His father was a shrewd businessman and academic but died early on when Bailik was just seven years old. Being orphaned at such a young age left its mark on the poet and the misery he felt during this time would influence his work later on.
After the death of his father, Bailik moved to Zhitomir where he came under the wing of his grandfather, had a traditional Hebrew upbringing but also found time to explore modern literature from other cultures. Important to him at this time was the Jewish Enlightenment Movement and he subsequently traveled to Lithuania in his fifteenth year to study at the Hebrew academy there.
Bailik was struck by the narrow world in which the Talmudic academy lived and compared it to the greater openness in thought from the rest of the world. In Odessa he later studied German and Russian literature but had to make a living teaching Hebrew. He published his first poem, entitled To the Bird, in 1892 and a year later married Mania Averbuch, working in the lumber industry whilst living in Kiev.
Bailik finally settled down when he returned to Odessa after being offered a job teaching. This is the period when he was most prolific in his writing and consequently his fame began to grow also. He published his first collection in 1902 and it received a widespread and a positive critical response at the time.

After interviewing survivors of the pogrom against the Jews in Kishinev, Bailik wrote the long and heart felt poem In the City of Slaughter, railing against the passive response of many people to the anti-Semitic killing of his people. Over the next ten or so years he published about 20 poems in different Jewish periodicals and newspapers and helped to form a publishing house for Hebrew works.
His work included bringing traditional Hebrew tales together and in 1908 he helped publish The Book of Legends which became considered a major contribution to literature and was reprinted several times. In 1919 he also helped to found the Dvir publishing house that is still in existence today in Israel. It was during this time he became a great influence on singer Isa Kremer, encouraging her to become more involved in Yiddish music.

Bailik and others took Dvir publishing to Germany and joined the community of Jewish writers there, publishing books and producing plays at the local theaters. After the success in Germany, he moved the publishing house to Tel Aviv and became an important part in the local community, delivering the opening speech when the Hebrew University was finally opened in Jerusalem.
Over the years, Bailik produced a number of important works and is still considered as Israel's national poet with a museum now where he used to live in Tel Aviv. He died after being operated on for a prostrate problem in Vienna in 1934. Bailik was 61 at the time and was taken back to Tel Aviv where a huge procession followed his funeral procession.