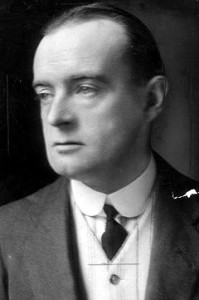 Born in 1870 in British Burma, Hector Hugh Munro was famous during the Edwardian era for his short stories and novels written under the pen name of Saki. Munro's father worked for the police and the young writer may well have spent his formative years in Burma if his mother had not had an accident that saw him returned to English shores.
His mother died shortly after her accident and, along with his siblings, Munro was sent home to England at the age of 2 where he was brought up by his grandmother. She believed in corporal punishment and there are indications that his upbringing was not very happy. He went to school first in Exmouth and then was sent to board at Bedford School.
In 1893 Munro decided to follow in his father's footsteps and joined the police force and found himself posted to Burma where he worked for a couple of years as an inspector. After he contracted malaria, however, he suffered from bouts of debilitating illness and, unable to carry out his duties effectively, eventually had to resign his commission, returning to England.
Munro moved onto journalism and worked for a while on the Daily Express among other newspapers in London, writing his first book, The Rise of the Russian Empire, in 1900. He also became popular for his satirical sketches particularly the Reginald in Russia series and The Chronicles of Clovis.
A couple of years later, he found himself in the Balkans, working as a foreign correspondent, moving between there and Paris. Still suffering from bouts of malaria he found the traveling tiresome and eventually decided to give up working abroad and settled for good in London.
Munro wrote and published a large number of short stories as well as a full length play called The Watched Pot. He also had a liking for satirical essays that took pot shots at Edwardian society and England's European neighbors. His few poems were very short and humorous and written to entertain rather than for any meaningful or satirical purpose.
With the First World War looming, Munro took advantage of the growing interest in war fiction to publish When William Came which was a story about the Germans occupying Britain, a book that was quite successful at the time. In 1914 he wrote a series of short stories under the collected title of Beasts and Superbeasts which included some dark and macabre tales.
By the time war did come, Munro was considered too old to be accepted for a commissioned officer role and so enlisted as an ordinary soldier, traveling to France where he was often injured but continued to fight.

In November 1916, Munro was at the Battle of the Ancre, one of the last big attacks of the Somme. He was shot by a sniper and died immediately. He was 45 at the time and there is no record of where he was finally laid to rest.