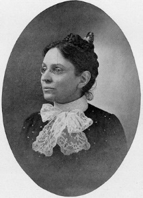 Helen Gray Cone was an American poet and writer of short stories.  She was also a university professor who spent her whole working life teaching English literature at one institution, that being the Hunter College in NYC.
She was born on the 8th March 1859 in New York.  Her education was completed at the city's Normal College which was later renamed Hunter College. She graduated Phi Beta Kappa in 1876 and was employed as a Normal College teacher of English.  During the 1880s she was elected to the presidency of the college's Associate Alumnae.
It seemed inevitable that she would become an author and her first collection of poetry came out in 1885 under the title



It was a fairly low key start to her writing career although the literary critic of the New York Times gave it a favourable review, including the following statement:



Her next collection,



was published in 1891 but she also found an outlet for her work in publications such as Harper's Magazine, which published her short stories as well as poetry.  While continuing to write her academic career thrived and, in 1899, she became the first woman to hold the position of Professor in English at Normal College.  This might seem odd as, at that time, there were only female students at the college, but she retained her position, heading the ever-growing department with distinction.
During the early years of the 20th century she had three collections of poetry published, the first of which was Soldiers of the Light in 1910.  A Chant of Love for England followed in 1915 and then, four years later, The Coat Without a Seam.  Once again she had good reviews, especially in the New York Times, whose arts reviewer pointed out the fact that Miss Cone's considerable output of material was mostly known to those who read extracts from her work in periodicals as she did little to publicise her published work.
Her poem A Chant of Love for England was written at the time when Europe was dashing headlong into the turmoil of the First World War.  Her words show that she was clearly an Anglophile, anguishing over the possible fall of those great English institutions of literature and architecture should the enemy prevail in their grim, military task.  The poem is reproduced here: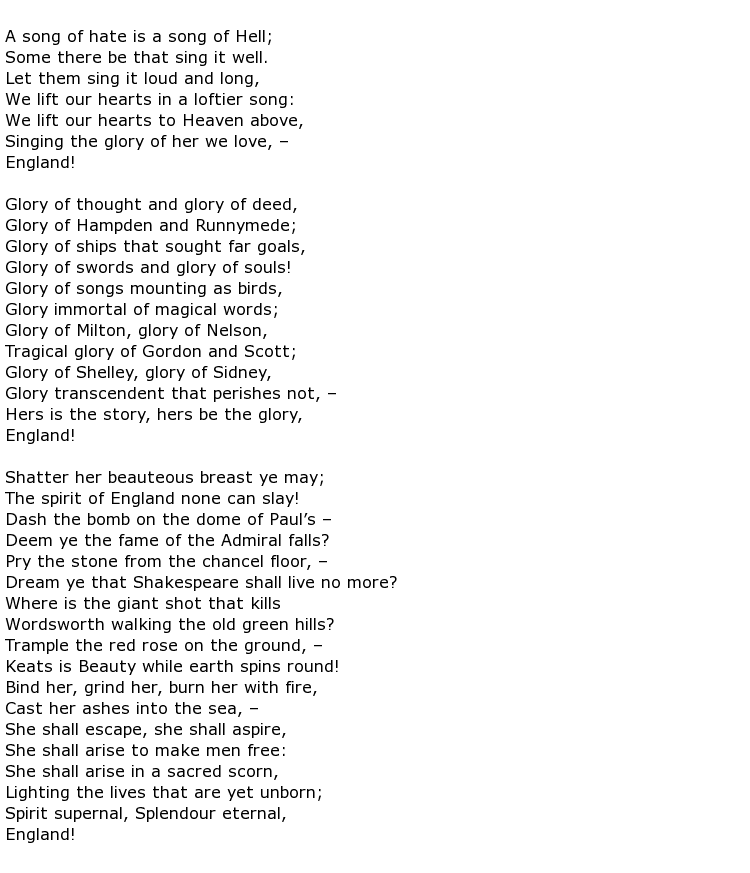 Cone also found time to write about other writers' work,  In 1890 she produced a history of American literature and she wrote explanatory notes to go with the publication of a number of Shakespeare's plays in the late 1890s and early 1900s.  Her literary and academic achievements earned her honorary degrees from New York University (1908) and Hunter (1920).  She retired from university life in 1926 and the Helen Gray Cone Fellowship was created in her honour, and is still awarded to this day.
Helen Gray Cone died on the 31st January 1934 at the age of 74.