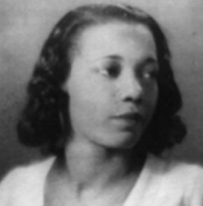 Helene Johnson was a 20th century African-American poet who came to prominence during the Harlem Renaissance.  This was a movement of great artistic and cultural innovation which came out of the Harlem district of New York during the 1920s and was also known as the "New Negro Movement".
She was born Helen Johnson on the 7th July 1906 in Boston although she spent most of her childhood in Brookline, Massachusetts. It was a tough upbringing with her father being absent and her mother being the daughter of former slaves.  She lived with various relatives and an aunt gave her the nickname Helene which stuck with her as she developed a writing career.  Despite the privations of her young life she managed to get to university, attending establishments in Boston and Columbia. She studied hard although did not achieve a degree from either.
She liked to write and first came to prominence when she won a short story-writing competition run by the Boston Chronicle. A cousin, the author Dorothy West, encouraged Helen to move with her to New York City and the two of them became active members of the literary renaissance.  Johnson became deeply embroiled in the struggles and tribulations of the people living in the black areas and wrote passionately about them.  Much later she was described as a writer who



Johnson found outlets for her poetry in a number of New York periodicals during the 1920s and 1930s.  One contribution appeared in a short-lived title called Fire which was jointly edited by Langston Hughes who, himself, became a major driving force in the Harlem Renaissance.  Other magazines that took her work included Vanity Fair and Opportunity: A Journal of Negro Life.  People really began to notice her when a poem containing innovative slang and unconventional rhythms called Bottled was published in Vanity Fair, in the May edition of 1927.
A similar piece is reproduced here.  It is a short poem called Ah My Race:


Despite her popularity and clear connection with the people that she was writing about, much of Johnson's poetry was written for her own interest, with no real intention to publish.  Her last published work appeared in a publication called Challenge: A Literary Quarterly during the mid-1930s.  It is believed that she continued to write at least one poem every day for the rest of her life, purely for her own satisfaction.  However, some of her best work was too good to lay dormant and  inevitably found its way into anthologies such as The Poetry of the Negro, published in 1949, American Negro Poetry (1963) and Voices from the Harlem Renaissance which came out in 1976.
She was married to William Hubbel in 1933 and the couple had one child, a daughter named Abigail.
Helene Johnson died in Manhattan on the 6th July 1995, a day before what would have been her 89th birthday.