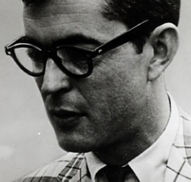 Henri Coulette was a 20th century prize-winning American poet, his first collection in 1965 winning the Lamont Poetry Prize.  Remarkably, he only published one more collection during his lifetime although he was working on a third at the time of his death.  He was also a renowned teacher, being Professor of English and faculty member at California State University for virtually all of his adult life.   In 1970 he was named as the university's



He was born on the 17th November 1927 in Los Angeles.  He was bright enough to gain a place at the Los Angeles State College, now known as the California State University, and he gained a Bachelors' degree from there in 1952.  He had ambitions to become a writer and, with this in mind, he spent time at the University of Iowa Writers' Workshop, gaining a doctorate as well as working as a lecturer there.  He returned to California on completion of his studies, joining the English department in 1959.
He made sure that he could find the time to write poetry and achieved great success with his first collection,



published in 1965 to great critical acclaim.  It won the Lamont prize for



and it also earned the James D. Phelan Foundation Award, a prize given annually to an outstanding Californian artist or writer.
It took him another six years to produce a second book but this, The Family Goldschmitt, unfortunately appeared to fail, gaining little attention.  It was reviewed favourably in some quarters though, one praising the author for



Perhaps this setback discouraged him from writing more although a third was planned shortly before his death.
In some ways Coulette appeared to be obsessed with the subject of death and the darker side of life in his later years.  When an anthology of Californian poets was produced in 2003 (including two of Coulette's poems) the editors noted his interest in



Perhaps it was this fatalistic attitude that led to his writing an elegy for his departed cat called Petition.  Here is this quirky little poem:



The two poems that appeared in the 2003 anthology were Night Thoughts and Postscript.  Coulette himself said that he took



Although his published output was sparse, pieces of his work did appear in publications such as The New Yorker and the Paris Review.  He also hosted a radio show called Poetry Chronicle on radio station KPFK.
Henri Coulette died unmarried on the 26th March 1988 having suffered a catastrophic heart failure.  He was 60 years old.  His collected works were published posthumously, in 1990, the book containing a large number of poems never seen before.