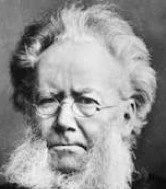 Henrik Johan Ibsen is probably the best known Norwegian poet and playwright in that country's literary history.  During the 19th century he wrote a number of plays, many of which are still performed today including such famous pieces as Ghosts and Hedda Gabler.  The Doll's House was considered to be the most popular play world-wide during the early 20th century and his name is second only to William Shakespeare as the world's most frequently performed playwright.
He was born on the 20th March 1828 in the coastal town of Skien.  His family were in the timber merchant business and were, most certainly, financially comfortable, being part of the patrician elite of the town and highly respected.  Troubles were not far away though and the family fortunes took a downturn when Henrik was seven years old.  His father's business interests were severely hit and the difficult times that they endured most certainly influenced some of Ibsen's later work when he was known for his no-nonsense, realistic outlook on life.  Exploring hitherto taboo subjects such as family incest became a part of his work and the scandal that he created only inspired him more.
With money not being available to enable him to complete his education, Ibsen left school at the age of 15 and became an apprentice pharmacist in the small town of Grimstad.  His major interest though was in writing and his early attempts at drama met with mixed success.  In 1850 The Burial Mound was performed but received scant attention.  He persisted though, often calling on the work of famous Norwegian folk tale writers like Henrik Wergeland for inspiration.  When he managed to secure a position within the Bergen theatre he found the opportunity to really cut his teeth, writing, producing and directing many plays.
The experience was invaluable and, in 1858, he secured the position of creative director at the Christiana Theatre.  The same year he was married but life was hard, with the prospects of making a meaningful career from writing seeming quite remote.  In 1864 he became so disenchanted with Norwegian life that he decided to exile himself, at first in Italy.  It would be some 27 years before he went back home and, by the time he returned to his homeland, he had become a controversial, but successful, playwright.  He had produced such titles as Peer Gynt in 1867 which was made more famous when the composer Edvard Grieg set it to music. The following year he went to live in the eastern German city of Dresden and then on to Munich which was where he wrote one of his most controversial pieces of work.  The play A Doll's House, written in 1879, challenged and criticised traditional roles in marriage.  He raised the scandalous subject of syphilis in his next play, Ghosts, and his reputation continued to grow.
One of an ever-increasing number of admirers described Ibsen as



and there is no doubt that he inspired many others who went on to become famous, such as James Joyce and Oscar Wilde.  He was nominated for Nobel prizes in literature three times – in 1902, 1903 and 1904.
While primarily known for his dramatic works, his poetry also received good reviews.  He often explored elements of modernism, realism and surrealism.  Here is a typical example of his verse, a lyrical poem named Burnt Ships, which suggests old Viking images of burning ships (for example, as funeral pyres for great warriors) while describing snow-clad mountains and sun-warmed lowlands: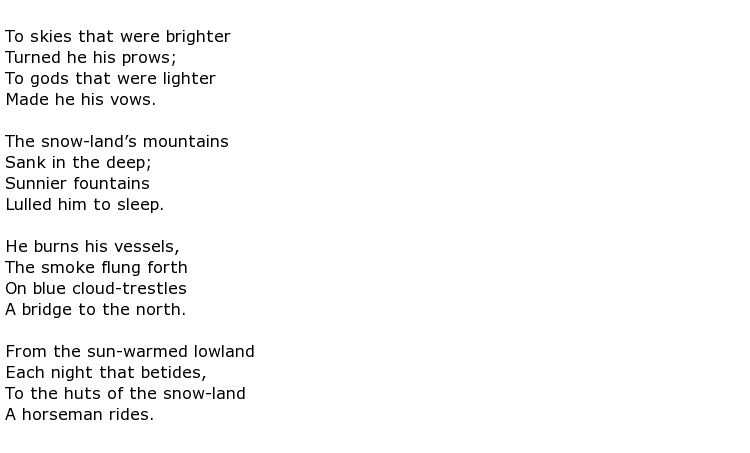 Ibsen was much-decorated for his services to literature including being made a  Knight, First Class of the Order of Vasa.
Henrik Johan Ibsen died at home on the 23rd May 1906 in a place that is now the modern-day Oslo.  He had suffered a number of strokes and, although he appeared to get better, he never fully recovered from them.  He was 78 years old.