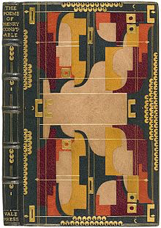 Henry Constable was an English poet and diplomat of the late 16th and early 17th centuries whose most famous work was the remarkable sequence of sonnets under the title Diana, split into eight sections which he called First Decade, Second Decade and so on.  He led a trouble life in his later years due to his conversion to Catholicism, a declaration of faith which meant that he had to live in exile abroad for some years for his own safety.
He was born some time during the year 1562 in the Nottinghamshire town of Newark-on-Trent.  He came from an aristocratic family, the son of Sir Robert Constable, a military man and Member of Parliament.  Henry received a good education, attending St John's College Cambridge, from where he achieved a Bachelors' degree in 1580.  There was a possibility that he might enter the law profession as he enrolled at Lincoln's Inn in early 1583, although no documentary evidence can be found to confirm how far he went down that road.
He began a diplomatic career later that same year in Paris, moving from there to Heidelberg and possibly to Poland.  He spoke up on the subject of Protestant causes during this time and there is a record of his spending time at the English court as a favourite of Queen Elizabeth I.  In 1589 he was sent to Edinburgh to attend the marriage of King James of Scotland and, although he appeared to all intents and purposes to be a true Protestant, he was exhibiting a tendency towards the Catholic faith.  In September 1589 he wrote (anonymously) a piece of work called Examen pacifique de la doctrine des Huguenots which was a plea for all English Catholics to support the newly crowned King Henri IV of France.
The French king recognised his efforts during the siege of Rouen in 1591 by granting a small pension to the now openly Catholic Constable.  Shortly after this good fortune Constable began to compose his epic sonnet collection Diana.  The original issue proved so popular that new editions followed over a period of years, with additional sonnets included each time.  Other writers, such as Sir Philip Sidney, made contributions as well and Constable's reputation as a great English romantic poet was growing.  Much later the writer William Hazlitt described The Shepherd"s Song of Venus and Adonis in glowing terms.  He said that: 



Here is the opening verse to this long, lyrical poem: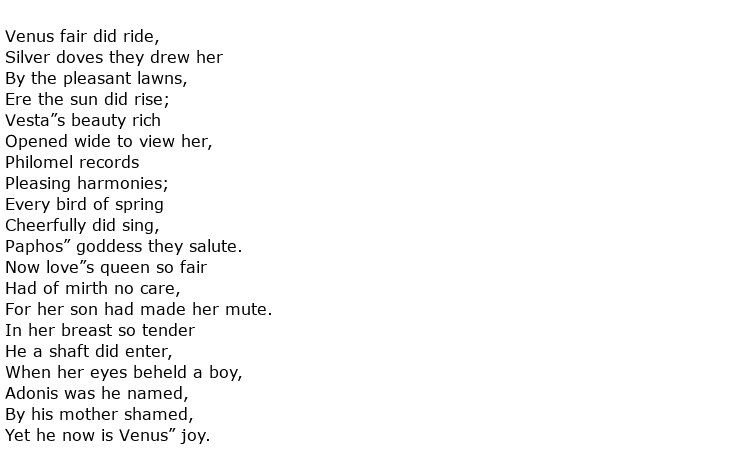 Constable spent many years travelling Europe, spending time in France, Italy and Belgium and, although he claimed to be loyal to the Queen, he also offered his support to King James in his efforts to gain the English throne.  The two spent many hours on hunting trips and discussing poetry and religious matters during a visit that lasted for some months during 1599.  Perhaps Constable thought that he would be safe to practice his new faith but, even though James had become king, he found himself imprisoned in the Tower and other places, deprived of both liberty and inheritances.
Henry Constable died in exile, in the Belgian city of Liege, on the 9th October 1613, at the age of 51.  He had left England for good three years earlier, no longer safe to practice his faith.