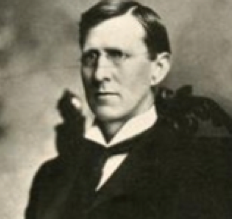 Henry Jerome Stockard was an American poet and teacher.  At various times he taught English and Political Science and he also served as professor of Latin in North Carolina at the Peace Institute, Raleigh.
He was born on the 15th September 1858 in the Chatham County region of North Carolina, the son of John Stockard, a hardworking lumberman and farmer.  His family's origins were Scottish with his ancestors having emigrated to Pennsylvania in the mid-18th century.  When Henry was born the Civil War was still raging although very little action was seen where he grew up.  After the war the Stockard family decamped to Alamance County but tragedy soon struck.  Henry's father died leaving his mother to raise her ten children alone.
She was determined that he should get a good education.  This began at the Graham High School.  He moved on to study at the University of North Carolina and then took a degree course at Elon College.  He graduated from there in 1889 and immediately entered the teaching profession.  By 1892 he was assistant professor of English at his old University.  Over the following ten years or so he moved around, spending some time teaching English and Political Science at Fredericksburg College, Va.  By 1900 he was back home teaching Latin at the Peace Institute and he remained here until his death.
As well as teaching, Stockard had been a prolific writer and, in 1886, he won a poetry competition sponsored by the North Carolina Teacher.  He became well known for writing sonnets and was considered to be the unofficial poet laureate of North Carolina.  Like many poets of this time he found an outlet for his work in various publications, examples being Atlantic Monthly, Harper's and Scribner's magazines.  Anthologies of American poetry contained some of his work, including Richard Walser's North Carolina Poetry and Edmund C. Stedman's American Anthology.
He had at least two volumes of poetry published in his own name.  Fugitive Lines came out in 1897 and A Study of Southern Poetry in 1911.  A posthumous collection called Poems was published in 1939. His style of writing varied, from the romanticism of his sonnets to the raw and powerful descriptions of Civil War battles.  A good example of the latter was his poem The Last Charge at Appomattox.  This was one of a number of pieces of work that he produced to commemorate historic occasions in American history.  Here are the opening verses of this poem: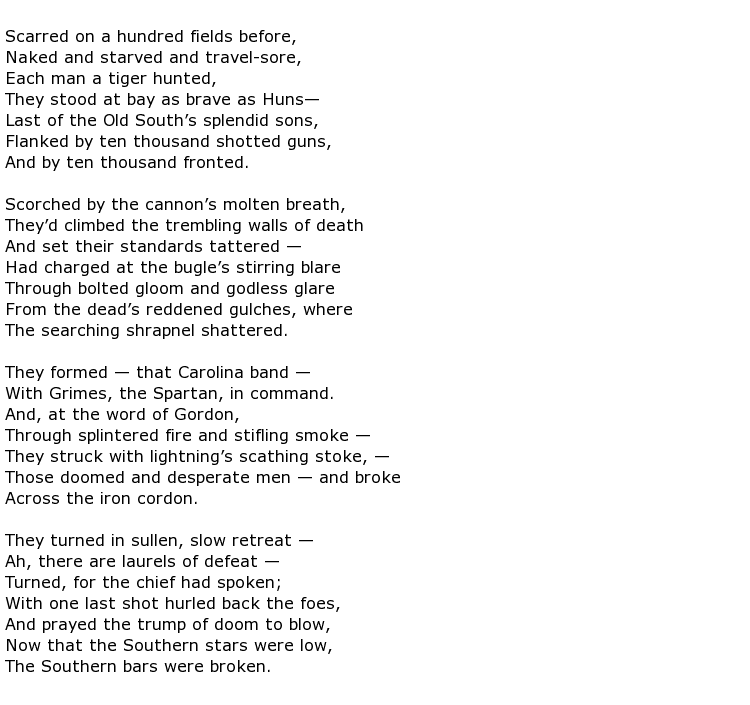 As well as being a prolific writer Stockard gave his time to the North Carolina Literary and Historical Association, being one of the founder members of this organisation.  He was also an elder at his local Presbyterian church.  He was twice married.  His first marriage, in 1878, produced four children and ended with the death of his wife Sallie in 1888.  He married again two years later and his second wife, Margaret, bore him six more children.
Henry Jerome Stockard died on the 5th September 1914 at his home in Raleigh.  He was 55 years old.