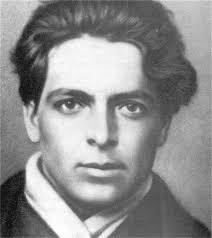 Bulgarian poet and writer, Hristo Smirnenski was born in the small town of Kukush in Macedonia, then a region of the Ottoman Empire before later becoming part of Greece. His poor upbringing in an area that was often prone to militancy led to the growth of his socialist ideals and would color his poetry through his teens and early years. Despite that he led a largely happy childhood and was known for his sense of humor and love of life.
Smirnenski's youth was marked by the first two Balkan wars which saw his home town of Kukush violently attacked and burned. Along with thousands of other refugees, he and his family traveled to the relative sanctuary of Sofia where they settled for a while. Despite living in poverty and enduring these troubled times, Smirnenski's mother and father made sure that he had a good education which saw him attending technical college.
Smirnenski became interested in writing whilst at college and began publishing his work in the newspaper Anything Goes. When World War I broke out, he joined the Military School as a cadet in 1917, but continued to write satirical and humorous poems during his short time there. By the end of that year, the October Revolution had begun and soldiers were confined to the barracks to prevent them coming under the influence of any communist ideology.

During the Soldier's Revolt in 1918, Smirnenski saw action in some of the bloodiest clashes of the times. He published his first collection in the same year but, appalled by the cruelty of battle, left the military for which his father had to pay compensation.
Smirnenski quickly found a job with the popular newspaper Bulgarian and contributed witty verses to the communist publication Red Laughter. He became involved more deeply in politics, taking part in rallies for the better treatment of convicted soldiers and improving the working life of the generally poor population. In 1920, he joined the Communist Youth League and became the literary voice of the party for a while, publishing more regularly in Red Laughter, including one of his more memorable poems The First of May.
After publishing several poems, in 1922 his collection, To Be a Day, was published by the General Workers Co-operative Society, selling around 1,500 copies. This was a productive time for the poet and his works expressed the humor and potential of fighting together against social injustice that was central to the communist cause.

Despite the endless creativity and youth that fueled his popularity for various socialist causes, Smirnenski was also suffering from tuberculosis. In 1923 his health took a turn for the worse and he died, at the age of just 24. During his career he had penned several thousand poems using more than 70 different names, creating a potent voice for socialist activism in the days after the First World War.