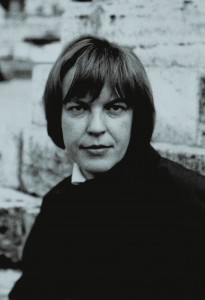 Born in 1926 in Austria, Ingeborg Bachmann was a poet and novelist who became one of the most important writers to emerge from post war Germany. She is perhaps best known for two collections of haunting poetry, Borrowed Time and Invocation of the Great Bear. An ardent anti-fascist who hated it when Hitler's troops marched into her home town, her war diaries were published in later life and showed her influences from the likes of Baudelaire and Mann.
Bachmann was brought up in Klagenfurt before going to Innsbruck University. She studied a number of subjects including philosophy, law and psychology, earning a doctorate from Vienna University in 1949. In the early days after her graduation, Bachmann worked as a scriptwriter while she toiled in her spare time to further her literary career. At Rot-Weis-Rot, a radio station, she was able to earn a comfortable living and managed to get her first scripts performed.
Her career was given a boost when she met literary impresario Hans Weigel who in turn gave her access to Gruppe 47, the most influential literary group in Germany at the time. The ethos behind Gruppe 47 was to help establish young authors and poets. At its heart lay the desire to teach the German public more about democracy after the inevitable demise of Hitler and his Nazi regime. The group met only twice a year, had its own award, and you could only attend if you were invited by another member.

One of her most productive periods was from 1953 when she moved to Italy and worked diligently on her poetry and co-wrote an opera libretti with Hans Henze which received many plaudits and awards. Her first work published that year was Borrowed Time which dwelled on the darker side of progress and won her the coveted Gruppe 47 literary prize.
Bachmann gained considerable celebrity with the German media and in 1956 published her second major work of the decade with Invocation of the Great Bear which presented a more sober face to the world. In it we can see the influence of such literary and philosophical greats such as Heidegger and Wittgenstein. One of her final poems was written in 1963 and was called No Delicacies and marked a move away from poetry as an expressive form for her.

Instead, she began to write more short stories, scripts and works for opera, and in 1964 she won the prestigious Georg Büchner Prize. During her later years she developed a drug habit, becoming addicted to barbiturates which may have contributed to her death in 1973. Two years previously she had written her first novel Malina which was originally going to be part of a trilogy but was left unfinished.
In September of '73 a lighted cigarette caused a fire in her flat and she was taken to hospital and experienced severe withdrawal from her drug habit. She died shortly afterwards, at the age of only 47. Bachmann was buried in the cemetery of her home town Klagenfurt.