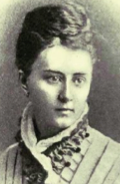 Isabella Valancy Crawford was a 19th century Canadian poet and novelist who emigrated with her family from Ireland in 1856.  She was one of the first freelance writers in Canada and is considered, by most, to be her adopted country's first major poet.  Unfortunately her fame came mostly after her untimely death.
She was born on the 25th December 1846 in Dublin, the daughter of a doctor who successfully got a licence to practice medicine in Western Canada in 1857.  Life was hard in Paisley, the small town where they settled, and a financial scandal caused them to move to Lakefield after only four years.  This was a place without a doctor and they were taken in by the Strickland family initially.  The young Isabella was quickly influenced by the sisters of their host, writers Susanna Moodie and Catherine Parr Traill, and it is believed that this was the time when she began composing her own poetry.
Her first published work came when the family moved on once more, this time to Peterborough.  A poem called A Vesper Star was published in the Toronto Mail on the Christmas Eve of 1873.  Her father died two years later and it became apparent that Isabella needed to earn enough money from writing to support her mother and one surviving sister, Emma.  Tragically Emma died shortly afterwards and the two remaining women moved to Toronto where it would be easier to get work published.  Crawford found many outlets for her work, submitting serialised novels as well as a number of poems to various newspapers and periodicals in New York and Toronto.
Despite achieving popularity with her readers she failed to gain much success with the one collection of poetry that she had published during her lifetime.  This was called Old Spookses' Pass, Malcolm's Katie and Other Poems which she, herself,  paid to have printed in 1884.  Reviewers and critics spoke of her



praising her for possessing such qualities such as



and yet the book sold only 50 copies.  Crawford's most famous piece of work was in this book, a long love poem in many parts called Malcolm's Katie.  The opening lines of part one are reproduced here: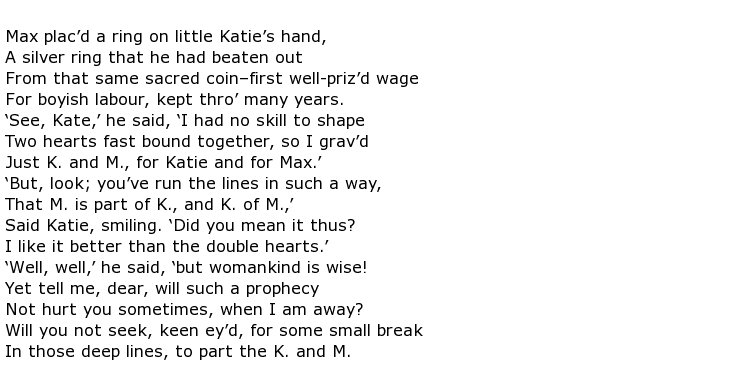 Besides Canadian and American reviews, London magazines such as the Spectator and the Saturday Review included extracts and many kind words were spoken but, alas, the author was disappointed, claiming that she had been



She continued to write as much as possible, striving to make a good living from her prose and poetry but, despite many complimentary tributes, her work was dismissed in some quarters as nothing more than



Ironically, after her death, many of her poems appeared in a ground-breaking anthology of Canadian work called Songs of the Great Dominion, published in 1889, and the result of this was that many more people were able to enjoy Crawford's work. Her Collected Poems appeared in 1905 and, in the following decades, many other books were published including her work.  She was described as



Isabella Valancy Crawford died on the 12th February 1887, aged only 40.  It was even more of a tragedy that she died in poverty and that her body lay in an unmarked grave for some thirteen years before a campaign was begun by lovers of Canadian literature to get a six foot high Celtic Cross erected there.  The inscription reads: