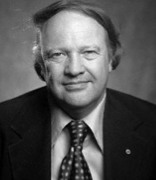 James Dickey was a 20th century American poet, novelist and university lecturer.  His poetry output was substantial and highly regarded and he was chosen to recite one of his own compositions,



at the inauguration of President Jimmy Carter in 1977.  He is perhaps best known though for his novel Deliverance which was turned into a 1972 movie starring Burt Reynolds.  He received many honours for his writing including being appointed the 18th US Poet Laureate, which happened in 1966.
He was born James Lafayette Dickey on the 2nd February 1923 in Atlanta,in the state of Georgia, the son of a lawyer.  He attended High School in Buckhead and then, at the age of 19, he started a brief period of study at the Clemson Agricultural College, which was based in South Carolina.  This lasted for only one semester and he then decided to join the second world war effort, enlisting in the Air Corps.  He saw service as an operator of the radar with a one squadron and, later on, more active service in the Korean war.  In between though he completed his education at Vanderbilt University, gaining a degree in Philosophy and English in 1949.  The following year he gained a Masters' in English, also from Vanderbilt.
During the 1950s he taught at universities in Houston and Florida while also working on advertising campaigns for such companies as


He always said that the writing that he did for these projects was simply to



while striving, during his own time, to make his way as a serious poet.  A first collection came out in 1960 called



and he followed this one two years later with



The literary world took notice of this collection and he was awarded a Fellowship at the Guggenheim.



followed for



published in 1965.  This is a curious piece about the dying art of minstrel show singing, and also his dying mother, singing one of these songs while lying in bed.  Here is the poem:


Immediately after being appointed Poet Laureate in 1966 Dickey set about gathering together his work into a new anthology of his poetry called



this being published in 1967. Critics have suggested that the verse within represents his best work.  He was certainly in demand as a lecturer that visited a number of establishments.  In 1969 he secured a permanent position at South Carolina's University where he served as professor of English and writer-in-residence right up to his end.  Indeed he delivered his final lecture to his students only six days before his death.
Dickey was married twice in his lifetime, the first time in 1948 to Maxine Syerson who bore him two sons.  She died in 1976 and he remarried almost immediately, his second wife Deborah giving birth to a daughter three years later.  When the film of his book Deliverance was released it was revealed that Dickey had been granted a cameo part in the film, playing a sheriff.
James Dickey passed away on the 19th January 1997 at the age of 73.  He had been suffering with fibrosis in his lungs and jaundice for some time.