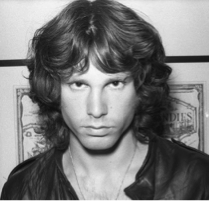 More commonly known as Jim Morrison, this was one of the iconic figures of American rock music of the late 1960s. Morrison was singer and songwriter with The Doors and his cutting, powerful lyrics captivated his audiences. This was, as far as pop culture was concerned, a revolutionary time in America and Morrison tapped into that with a fervour and, sometimes, anger that often whipped people up into a frenzy. He was very much involved in the drugs scene and his heroin habit influenced both his writing and his on-stage behaviour. He, and his devoted followers, probably thought he would live forever but history showed that this was to be a tragically short life. The legacy of songs and poetry that he left behind is significant, but there could have been so much more to come from this talented writer.
Born James Douglas Morrison in December 1943, in Florida, he was the son of a military pilot. Father George was also a talented musician and would captivate friends and relatives whenever he sat down at the piano, playing well known tunes by ear. The nature of his job though meant that the family moved around from state to state during Jim's formative years and this unsettled, almost nomadic life, might have contributed to his troubled state of mind.
He did well at school and demonstrated a talent for writing and drawing. He was an avid reader and he carried this forward into his college years. Indeed, when asked what he would like as a graduation present, he requested a complete set of the works of the German philosopher Nietzsche. His college years though bred a rebellious, wild side to the Morrison nature with women and alcohol being consumed daily. Coming from a military family must have sharpened his desire to rail against all forms of authority whenever he had the chance.
Morrison's interest in poetry was especially prominent when at the University of California in Los Angeles. He was a big fan of the new "beat" poets such as Jack Kerouac and his writing reflected theirs. He also loved earlier forms of poetry, such as that written by William Blake. His time as a student though was not necessarily for improvement to his mind or to gain any qualifications. This was the time of Vietnam drafts and he said, on graduation in 1965:



It was at college that he met his fellow band members and The Doors went on to become giants in their field, their second single release reaching number one in the charts. Light My Fire had unambiguous drug messages so fitted in well with the West Coast scene of the 1960s. One line goes



and the song was recorded by other artistes such as José Feliciano. The excesses and outrageous behaviour couldn't go on for ever though and Morrison dropped out of the music scene, moving to Paris during the Spring of 1971. The intention was to live quietly and write more poetry. He had already published two volumes in 1969; one was called The Lords/Notes on Vision and the second was The New Creatures. Further poems were collected during his time in Paris but remained unpublished until after his death.
One of his poems called The Hitch Hiker is a powerful piece about the dangers of picking up strangers on the road and it has the song lyrics embedded that became a huge hit for The Doors – Riders on the Storm: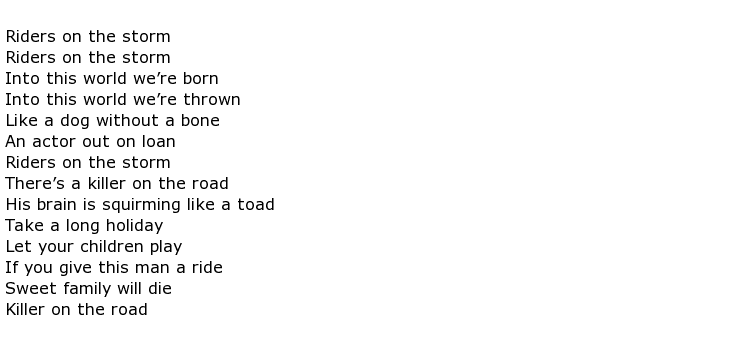 The circumstances of Morrison's death are unclear. The official cause was heart failure but one story suggested that he overdosed on heroin in a night club and was then taken home and placed in his bath tub to make it look as though he had died in his apartment. The world had been robbed of a fine poet and musician whose path to self-destruction could have been avoided. He wanted listeners to be open minded about life and how they perceived their own existence. He famously paraphrased the writer Aldous Huxley, who was actually quoting William Blake, with the line that included the name of his famous band:



Jim Morrison, also known as "The Lizard King", died in Paris on the 3rd July 1971, aged just 27.