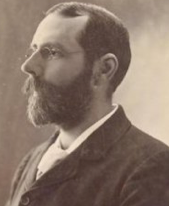 James Hebblethwaite was an English-born Australian poet, church man and teacher.
He was born on the 22nd September 1857 in Preston, Lancashire, the son of a corn miller.  The family had fallen on hard times and James had to take responsibility for his own education, gaining scholarships where he could.  He ended up at St John's College in Battersea, South London where he studied between 1877-1878 to become a teacher.  His first entry to the profession was at a boarding school, eventually becoming headmaster and he taught at a number of Lancashire schools.  Additionally he taught English Literature to evening class students at the Harris Institute, Preston.
Hebblethwaite's health was not good and he decided to emigrate to Tasmania in 1892 with the hope of improving it.  He soon resumed his teaching career with a post at the Friends' School in Hobart.  He had always hoped to become a published writer though and finally, in 1896, he got some of his poetry published in a slim volume of classical-themed poems simply called Verses.  Prior to this he wrote a novel called Castle Hill, or a Tale of Two Hemispheres and it was published in London.  It was not a success, some of the reviews using words describing it as "stilted and melodramatic".
A career change of direction then occurred when he became a Congregational minister, serving in two parishes before switching to the Church of England.  He was made a deacon in 1903 and the following year he was a priest.  He served three Tasmanian towns as vicar between 1905 and 1916, at which point he retired from the ministry.
More published poetry appeared;  a volume called Meadow and Bush in 1911 and then his collected works in 1920, under the title The Poems of James Hebblethwaite.  The following year he put New Poems of James Hebblethwaite out but this would, sadly, be his last effort as he died that year.  He has been described as a wistful, romantic lyric poet and his name certainly belongs amongst the list of 19th and 20th century Australian poets.  However the work that he produced seemed to have little impact on the literary world, one critic saying that "his poetry seldom startles".
Like many other poets of his time he contributed verse to publications such as the Sydney Bulletin and the Mercury.  Perhaps his main failing was to concentrate too much on "old world" values and subject matter rather than writing about his new country, Australia.  This seems to have been a feature of his work all through his life.  Here is the opening verse to a poem called Wanderers which, in truth, is difficult to place geographically: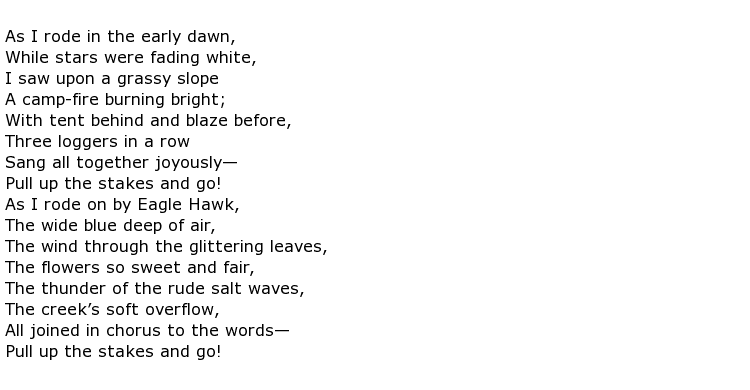 As a man Hebblethwaite was popular, both as a churchman and as a writer.  He had a naturally amiable nature and he often tended to let his mind wander when reading or studying works of art.  He was certainly the kind of man to engage in conversation, always likely to entertain and engender feelings of affection.
James Hebblethwaite died in Hobart on the 13th September 1921 at the age of 63.  He had been married twice, his second wife and son surviving him.