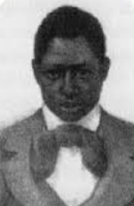 James Monroe Whitfield was a 19th century poet and political activist on behalf of African Americans.
He was born on April 10, 1822 in New Hampshire.  There are only scant records of his early years but it is known that he received very little in the way of formal education so it can be assumed that he was pretty much self-taught in many respects.  Even as a boy he was deeply concerned with securing rights for black Americans and he had several papers published on the subject by the time he was sixteen.
Whitfield found work initially as a barber, in California, but he was writing whenever he had the time.  Much of his work found publication in a number of newspapers and magazines, including The Liberator and North Star.  He had moved to Buffalo, New York at the age of seventeen and he remained there for the next twenty years.  He was a great political agitator, working alongside emigrationists and abolitionists such as Martin Delany and James T Holly.  He was heavily involved in the promotion of the National Emigration Conventions in both 1854 and 1856.  He also contributed and helped to run a black-oriented national publication called the African-American Repository.
Whitfield's work in this field, as well as his growing reputation as a poet, made him a real force to be reckoned with and he often clashed with those (mostly) white-skinned people who disagreed with his ideas.  One of his projects was an idea proposed by a Missouri Congressman that parcels of land in Central America could be acquired for the resettlement of great numbers of African Americans.  He was sent to the region, in 1858, on a fact-finding mission and lived there for two years.
As one would expect a lot of his poetry was about the oppression and enslavement of his brothers and sisters and the messages that he portrayed were often poignant as well as powerful.  Here are the opening verses of a poem called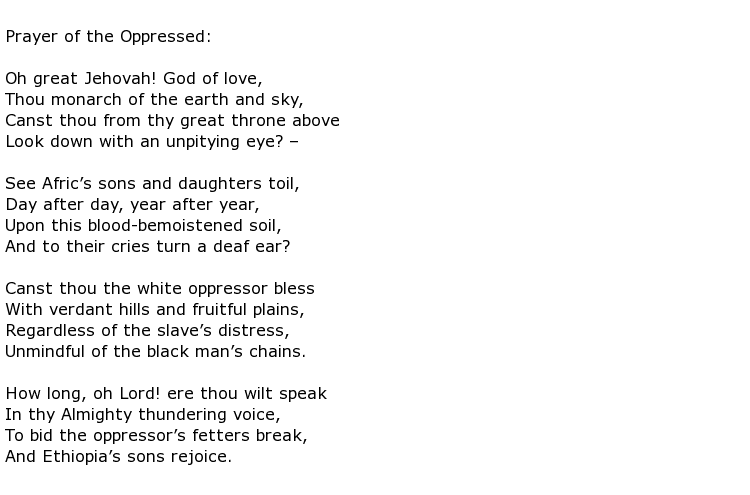 He was, like others, extremely bitter about what had happened to the slaves forcibly torn from their homelands and then, following America's Civil War, left to their own devices without the same rights and privileges of white people.  He and others, like Delany, had thought that the bravery and commitment of black soldiers who had been expected to fight should be rewarded with a better life.  What good was freedom without fairness after all?  He deplored the open racism and discrimination against them from all quarters, including the church.
Whitfield had at least two collections of poetry published in book form, these being Poems in 1846 and America and Other Poems, published in 1853.  He dedicated this second book to his friend Martin Delany. He lived and worked in a number of areas including Oregon, Idaho and the Pacific Northwest.  When he returned to California he managed to secure the position of State Grand Master of the Prince Hall Masons and he held that post four five years between 1864 and 1869.  Following this he moved to Nevada and, on one occasion, sat on a jury with three other black men.  This was the first time it had happened in the state. His health was failing though and two years later he suffered a fatal heart attack in San Francisco.
James Monroe Whitfield died on the 23rd April 1871 at the age of 49 and was buried in one of the city's Masonic cemeteries.