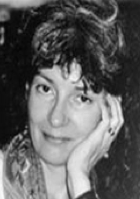 Jane Kenyon was a 20th century American poet who was appointed Poet Laureate of New Hampshire shortly before her untimely death in 1995.  She was also responsible for translating a number of works by the Russian poet Anna Akhmatova into English.  Like many other poets before her she made regular contributions to a literary journal;  in her case it was to Columbia: A Journal of Literature and Art.
She was born on the 23rd May 1947 in Ann Arbor,which is located in Michigan and spent all of her formative years in the Midwest.  She graduated from Michigan"s University in 1970 with a Bachelors' degree, following this with her Masters' two years later.  While studying there she was very interested in creative writing and won the Hopwood Award to assist her with this.  She also met her future husband there, the poet Donald Hall, who was a lecturer at the time and nineteen years her senior.  They were married in 1972 and they immediately relocated to Eagle Pond Farm which was based in Wilmot, New Hampshire – Hall's ancestral home.  She would spend the rest of her life living there in some degree of rural tranquillity.
It took her another six years before she managed to get her first collection of poems published.  This was called



published in 1978 and this was followed by



and finally Constance came out in 1993.  Perhaps there would have been more but for the time she spent on her Russian translation work, this culminating in the book called



 published in 1985.  She felt that she was making an important contribution to literature by doing this work and she encouraged other poets to try to do the same.
Kenyon suffered with depression, on and off throughout her life, and many of her poems reflected this condition.  An example of this was her poem



a curious poem in nine separate parts about various forms of depression and sadness.  Here is one from the middle section called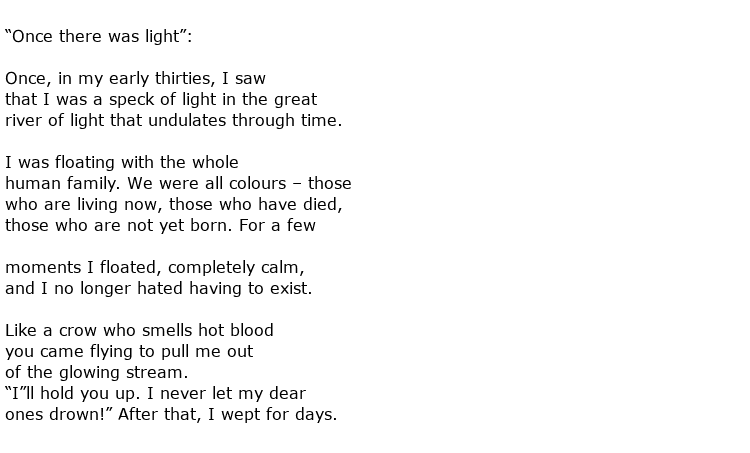 At other times though her work was filled with pastoral images such as the emptiness of fields in winter after the crops have been gathered in and then, as spring returns, the sight of sunlight streaming through the gaps in the roof of the hay loft.  It is sometimes difficult to categorise her poetry but critics have generally described it as



Some have compared her to the English Romantic poet John Keats.  She seemed to have a keen awareness of the changing of the seasons and this natural progression featured in many of her poems.
Her talent had been recognised by her adopted state of New Hampshire during the mid-1990s when she was appointed Poet Laureate.  Tragically though she was unable to fill the post for too long as she was struck down with leukaemia
Jane Kenyon died on the 22nd April 1995 at the tragically young age of 47.