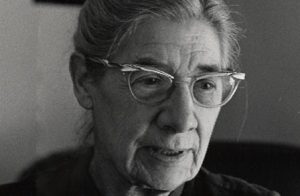 Janet Loxley Lewis was a 20th century American poet; the last survivor of an incredible generation of poets who began to publish works in the 1920's, and one of the most influential women writers of her generation. During her highly successful career, which spanned over 70 years, she published over five volumes of poetry. Her writing was not however limited to poetry, and her novel The Wife of Martin Guerre which was published in 1941, is the one that really made her name in literary circles. She also wrote a book of short stories and three libretti and the text for several songs in collaboration with the composer, Alva Henderson.
She was born on August 17th 1899, in Chicago, Illinois, where her father was a professor at the University of Chicago. She attended the University of Chicago where she read French; obtaining her degree in 1920. She spent a short time at the American consulate in Paris, followed by working at Redbook and teaching at the Lewis Institute. Whilst an undergraduate at the University she was an active member of the poetry club and it is here that she met her future husband; fellow poet Yvor Winters.
Having been diagnosed with Tuberculosis in January 1922, Lewis entered the Sunmount Sanitorium in New Mexico. She spent five years in the sanitorium, during which time she published The Indians in the Woods, her first volume of poetry which dealt with the plight and history of the Native Americans; a subject that Lewis was passionate about having spent many of her childhood summers with the Johnson family who were descendants of John Johnston; the white settler and his Ojibway wife, Neengay.
In 1926 Lewis married Winters and they moved to Palo Alto, California for Winters to work at Stanford University. Lewis continued to write following their marriage, publishing The Invasion in 1932, a novel which she was later to turn into a libretto. It is during this time that their daughter Joanne, and son, Daniel were born.
In 1941 Lewis made her name in the literary world with the publication of her second novel The Wife of Martin Guerre, a fictionalised adaptation of a real legal case that had taken place in France during the 16th Century. This was followed by several other novels which were also based on actual trials that had taken place; The Trial of Soren Qvist (1947) and The Ghost of Monsieur Scarron (1959).
Despite her success as a novelist Lewis's true spirit seems to have been most apparent in her poetry which she continued to publish until quite close to her death. In addition to her first poetry volume The Indians in the Woods her poetry work included Poems (1950), The Ancient Ones (1979), Poems Old and New (1981), Last Offerings (1988), and The Dear Past (1994). Her works concentrated heavily on imagery, lyricism and rhythms to achieve the desired effect. Lewis, and her husband, both had a consciousness that was way ahead of its time. They protested vehemently against the internment of Japanese Americans during World War II, were founder members of the California branch of NAACP, and were deeply concerned about the injustices against Native Americans, ideas which feature in many of Lewis's poems.
Remembered Morning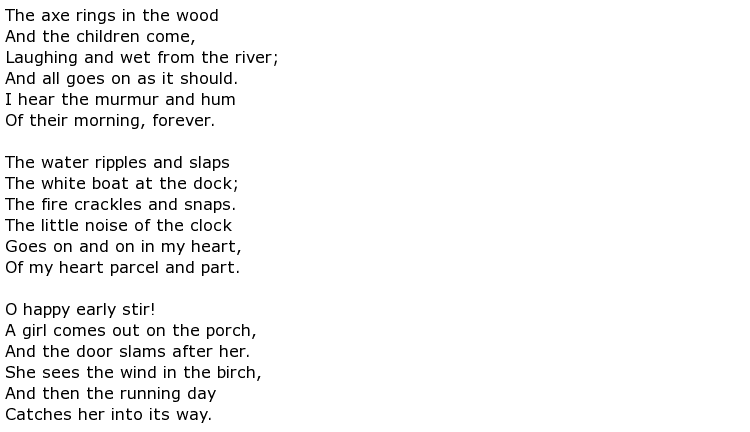 Lewis passed away at her home in Palo Alto, California in 1998 at the age of 99.