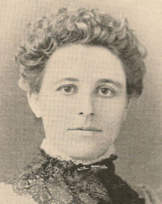 Jean Blewett was a Canadian poet, novelist and newspaper editor.  She also used the name Katherine Kent in some of her work.
She was born Jean McKishnie on the 4th November 1862 in the town of Scotia which lies in Kent County, Ontario.  Her parents had emigrated from Scotland.  She went to a local public school and then studied at St. Thomas Collegiate, showing an early talent for writing.  Remarkably she had her first novel,



published when she was only 17. She also submitted her work to newspapers such as The Globe, in Toronto, and had many pieces published there and in other publications.
Possibly her most lucrative submission to a newspaper came in 1896 when the Chicago Times-Herald ran a poetry prize and she won $600 for a poem called Spring.   A collection of verse called Heart Songs followed the year after.  She was married to an Englishman named Bassett Blewett at the tender age of 17 but this did not stop her from working.  She took a position on the staff of the Times-Herald as editor of its Homemakers Department.  She remained there until the mid-1920s, only retiring through ill health in 1925.  She was a popular writer, producing articles on temperance and female suffrage during the years following the First World War.  Her 1919 booklet Heart Stories, written in collaboration with members of the


raised a great deal of money for war charities.
Blewett was known as a "woman's poet", happy to write about subjects that appealed to homemakers and mothers, steering clear of areas that many other poets inhabited such as social anguish and philosophical musings.  Her verse was mostly simple in construction, usually in rhyme and often containing humour and sentimentality.  Typical was the prize-winning piece mentioned above and the opening verses of her poem Spring are reproduced here: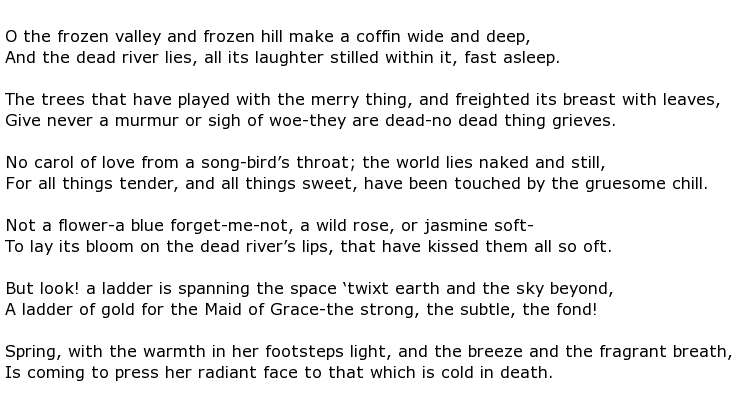 The poem ends with the line



indicating the acuteness of her observations of the natural world.  Her work was often described using words such as "sweet" and it was clear to readers and literary critics alike that Blewett's poetry was only there to entertain and inform, rather than shock and disturb, like so many other writers had done.  A collection called



published in 1906, reinforced her name in Canadian popular literary circles.
In 1915 an article on her appeared in Everywoman's World in which she was called


an affectionate description of a poet who loved to write about the beauty of nature that she saw all around her.  This had been her way from the very start when, aged 16, she was paid by the editor of Frank Leslie's Monthly for a simple but touching lullaby.
Jean Blewett died on the 19th August 1934 in Chatham, Ontario.  She was 71 years old and in a tribute written by a fellow journalist called Bride Broder she was described as a writer who