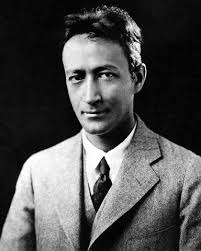 Of mixed race ancestry, Jean Toomer was born in 1894 and was seen as one of the most important proponents of modernism and a primer mover in the cultural movement the Harlem Renaissance of the time. Although his mother was white, his father's history was steeped in the slave culture of 19th Century Georgia. In his early days, Toomer attended segregated schools in Washington before moving to New York where he attended an all-white school.
He went to a number of colleges in his teens, studying a broad range of subjects, but never gained a full degree. He was, however, interested in poetry and read widely during that time. When he left college he went back to Washington where he spent time working in a shipyard whilst writing in his spare time. In America it was a period of great uncertainty with World War I raging in Europe and growing tensions at home that often erupted into violence.
For a couple of months in 1921, Toomer took a job in Georgia in an all-black college where he also began to explore his father's past. Although, because of his mixed race origins, he was often taken for being white, Toomer identified more with the segregation of blacks at the time. It led to him writing Georgia Night which was published later that year.
Some of Toomer's early writing was political and in 1923 he published a novel called Cane which explored the experiences of African Americans, using straight prose mixed with poetry. It was obviously inspired in some part by his time in Georgia and it is often considered to be his best work. In the future it would come to be seen as a classic of the 20s and 30s.
With times getting worse, and the Great Depression descending on America, Toomer found it harder and harder to find work, despite the critical success of Cane.

In 1931, Toomer attracted racial slurs when he married Margery Latimer, a white writer. Tragedy struck after they had been hounded by reporters and had attracted the indignation of many people – Margery died giving birth to their first child. Toomer remarried shortly after and, because he was now well-known as a writer, this also attracted the attention of the press. It may have led him and his wife eventually moving to Pennsylvania where they became part of the Quaker movement, turning away from the harsh criticism of mainstream society.
He wrote compulsively at this time, a lot of it, surprisingly, about the differences between the genders and kept on with what some saw as his spiritual quest – traveling to far flung places like India and studying psychology and the works of the Russian guru Gurdjieff.
More and more, though, he began to work for the Quaker cause and wrote less for publication. He often liked to see himself as an individual who was above the notions of race and the stereotypes that engendered. He wrote the long poem The Blue Meridian as a plea for racial unity and it was one of his last works.

By 1950 Toomer had stopped writing altogether. In later years, Cane was hailed as a black classic when it was reprinted in 1969 which led to a revived interest in his other works.
Toomer died in 1967 at the age of 72 and was buried in Doylestown in Pennsylvania.