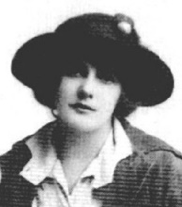 Jeanne Robert Foster was the pen named used by the American poet, fashion model, teacher, social reformer and journalist.  She spent much of her life in the north eastern area of the United States having originated from the Adirondack Mountains region of upstate New York and she wrote at length about life in the mountains.
She was born Julia Elizabeth Oliver on the 10th March 1879 in Johnsburg, New York.  The family were relatively poor, her father being a lumberjack, but she was fortunate to have a teacher for a mother who encouraged her daughter to learn and instilled in her the desire to travel beyond the mountain region where they lived in order to better herself.   She showed a talent for writing at an early age, unhindered by a severe bout of rheumatic fever that she had suffered at the age of 14.
This same year, 1893, saw her first article published in Vermont Farm and Home magazine.  It was called Autumn Leaves and was a descriptive piece about the glorious sights on Panther Mountain during the Fall.  The following year saw her secure her first teaching post in Warren County which was remarkable considering her age but special dispensation was made to allow her a teaching licence.  The income was certainly welcomed by her family.  Three years later she left the job to marry a man called Matlack Foster from New York who was 28 years older than her.
They went to live in Rochester and this heralded a new dawn in Jeanne's career.  She met the editor of Vanity Fair in New York City, in 1900, and, impressed by her great physical beauty, he suggested that she pose for some photographs with a view to appearing in the magazine as a model.  These appeared in the December edition and many other photo shoots followed.  Jeanne did not let this new found fame interrupt her education though.  She had been studying drama at Stanhope-Wheatcroft Dramatic School and she took further studies at Boston University and Radcliffe College in order to make up for her earlier lack of schooling.  She was also contributing articles and poetry to newspapers and magazines.
She secured the position of literary editor at the American Review of Reviews magazine and became interested in the Modernist movement in art which, around 1913, was only just becoming popular.  Her articles on the subject were a diversion from her first love which was stories and poems about the Adirondacks.  1916 saw the publication of two books on the subject, called Wild Apples and Neighbours of Yesterday, containing narrative verse.  Not all of her poetry centred on the glories of her mountain home though.  Being so close to the wild Atlantic she loved the sea and a poem called Tell me, what is poetry? revealed her love for this area of natural beauty.  The poem is reproduced here: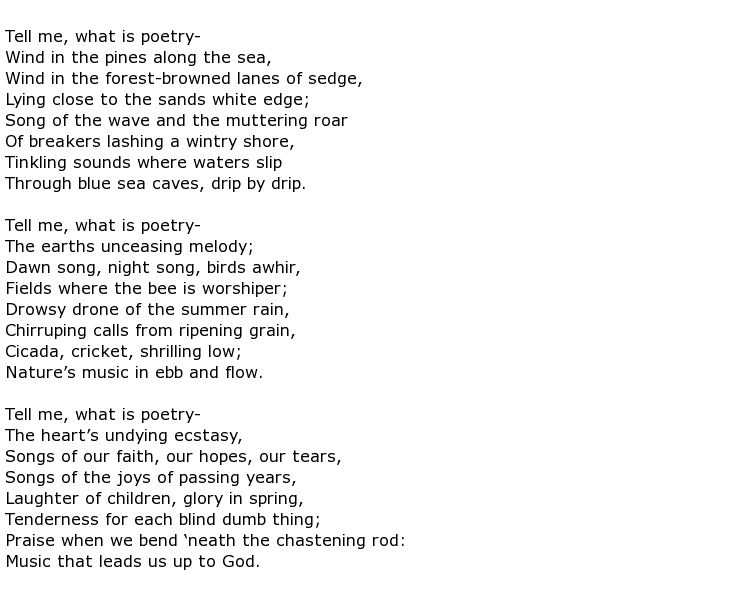 Foster was, without doubt, an independent woman who, as the 20th century wore on, became less interested in the social niceties of New York society.  She mixed with fellow writers such as W B Yeats and Ezra Pound and, with experience in modelling and acting behind her, portrayed a vibrant, confident personality to all who knew her.  She had the advantage of being able to renew her spirit with regular visits back to her mountain roots so had the benefit of both city and rural life to keep her grounded.  Her literary work placed her firmly amongst the country's leading female poets with her well-loved tales of the people who lived in the Adirondacks ensuring that she remained so.
Jeanne Robert Foster died on the 22nd September 1970 at the age of 91.