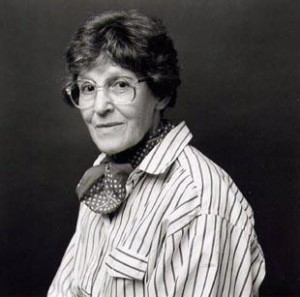 At various times a journalist, university lecturer, and even pub landlady, poet Jenny Joseph was born in 1932 in Birmingham, England. Thanks to a scholarship, she studied literature at Oxford and there began writing poetry, publishing her first collection in the 1950s. After some time working on newspapers in the UK, Joseph moved for a while to South Africa to write for a publication in Johannesburg, the Bedfordshire Times.
Her collection The Unlooked-For Season appeared in 1960 and enjoyed some success for its spirited and often humorous verse. There was a long wait until Joseph published her next work in 1974, Rose in the Afternoon, which was followed a few years later by The Thinking Heart and Beyond Descartes. Her poetry exhibits a careful craftsmanship as she explores issues of the minutiae of human behavior from simple acts of kindness to the sharp unhappiness of life.
Rose in the Afternoon contained perhaps her best known poem, Warning, that has been an inspiration to many people from all walks of life over the years. The theme of the poem is non-conformity and rebellion from society's norms in old age. It is a mix of tone with a longing for the carefree life of a child in later life that infuses the beginning of the poem followed by regret for the fact that you have to spend most of your life doing what society expects you to do. As with many of her verses, Warning explores the duality of existence, what we want and what we actually do in reality.
The poem was also the inspiration for the formation of the Red Hat Society, one of the biggest women's social groups in the world.

Her poetry has won a number of awards over the years. She explored the complex relationship between mother and daughter in Persephone in 1986 which attracted the James Tait Black Memorial Prize and in 1999 she was awarded a Fellowship of the Royal Society of Literature.
In 1996, with an Arts Council scholarship, she was able to spend time in Austria and Eastern Europe, exploring her love of translation, during which time she also wrote Ghosts and Other Company and Extended Similes. She was called by one respected professor as 'the best of the unfashionable poets.' She currently lives in
Gloucestershire where she is still writing despite being in her 70s. Her last collection, Nothing Like Love, was published in 2009 and contains musings on love and its vagaries. It revisits many of her old poems as well as having some new ones, including Cherry: