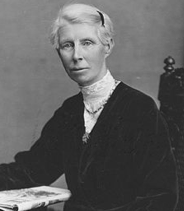 Jessie Mackay was a New Zealand poet who, although never having been appointed to the position, was considered by many to be the "unofficial" poet laureate of her country.  She was one of the first native-born New Zealand poets and was a champion of national awareness through her writing.  Additionally she was, at times, a school teacher and editor of a local newspaper.
She was born some time during the year 1864 in the South Canterbury region, on the south island.  Her parents had emigrated there from Scotland and had taken up sheep farming.  Jessie did well at school and was sent to Christchurch for teacher training.  She taught at a number of rural schools until she was in her mid-thirties and then moved to Dunedin to work on the Otago Witness newspaper.  This assignment was initially to write one article each fortnight but she proved so popular that she remained on the staff for thirty years.  All this time she was also writing poetry and found an outlet for her work mostly in a literary publication called the New Zealand Illustrated Magazine.
In 1902 she went to live with her sister in Christchurch and took up the editorship of the Canterbury Times four years later.  She was a sympathetic journalist, always concerned with social injustices and ever willing to give her time to any good cause that needed her.  This social awareness was often to the detriment of her writing but she pursued it anyway.  She was acutely aware of the suffering of many of her parents' ancestors who had been subject to the Highland Clearances and had lost both their homes and their livelihoods.  At the comparatively young age of 19 she had written an angry poem called The Charge of Parihaka which railed against those in authority who would take away everything from people too weak to resist.
Mackay's first collection of poems was called The Spirit of the Rangatira and Other Ballads and was her tribute to the Maori people who had been reigned supreme before the coming of immigrants to New Zealand.  In 1891 she had The Sitter on the Rail and Other Poems published.  This was a time in her country of great hardship for many and it was unusual for a woman to rise up in support of those who were suffering, but this is what she did.  She travelled the country campaigning and gathering signatures that would go on a petition to the government in support of women's suffrage.
It was on behalf of other women that she began teaching



when she moved to Christchurch in 1902.  She was also writing for a magazine called Zealandia around the same time, in the company of other female writers.  They concentrated on indigenous people themes and soon grew in confidence as their literary efforts gained attention far and wide.  The group were also able to get pieces published in the Sydney Bulletin, prompting Mackay to say that this wider involvement



Here is an example of her poetry.  Song of the Driftweed is a fairly sombre, regretful piece, all about things that we (or she) will never have, like love.  Perhaps it was a lament to herself, never having married:


Mackay was an extremely popular writer, especially across the South Island.  Her poetry was loved by adults and children alike and she worked hard to make the young aware of Maori folklore.  She had her detractors though amongst those who cared little for her strident tone and fearless stance on social issues.  At least four volumes of poetry came from her pen and her name is well established in New Zealand's literary history.
Jessie Mackay died in Christchurch on the 23rd August 1938, aged 74.